Meryl & J. Lo Are All Of Us Right Now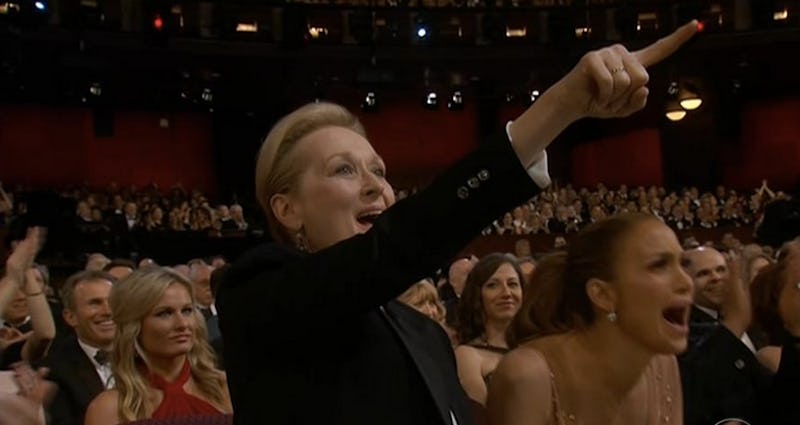 One woman easily took home her Oscar for Best Supporting Actress for Boyhood, but Patricia Arquette also the best Oscar speech of the night and Meryl Streep & Jennifer Lopez know that better than anyone because they basically embodied mine and everyone else's reaction with their exuberance. Arquette began her Oscar acceptance speech by thanking her family and the cast and crew of Boyhood, but the speech quickly evolved into an incredible statement about how women's rights and equality definitely deserves the spotlight as women have always fought for the rights of others. Hell yeah.
Yes, the speech was easily one of the greatest moments from the entire night (sorry, Neil Patrick Harris — your jokes were still good), the reaction Arquette received from some of the biggest stars in Hollywood was just as incredible to witness as Arquette delivering the powerful words. The camera cut to Meryl Streep and Jennifer Lopez's reactions to the speech and they could not be more proud and grateful for Arquette's words.
The two stars, who were seated next to each other, were quick to go to the edge of their seats and woop and holler for Arquette's incredible words, with Streep in particular really showing her support. If we can get more women in Hollywood to really voice their strong opinions on this extremely important matter more often, giant strides can and will be made in the fight for women's equality.
Image: ABC (screengrab)