7 Hilarious J. Lo Oscar Selfie Memes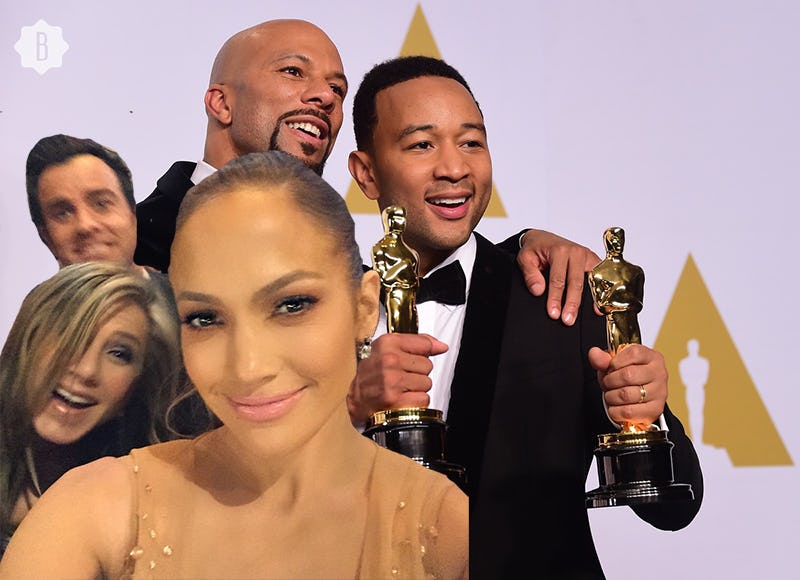 On Sunday, the 87th Academy Awards were hosted, and everyone tuned in for the ceremony they had been anticipating, or complaining about, since the nominations were announced in January. The 2015 Oscars might have been the whitest in 17 years, but they tried their best to make up for that with Neil Patrick Harris as a host, show stopping musical numbers, and a performance of "Glory" from Selma that will make you want to drown in a pool of your own tears to get away from all of your feels. However, it also gave us a new Selfie Queen to replace even Kim Kardashian. That queen is Jennifer Lopez, whose selfies with Meryl Streep and Jennifer Aniston (with bonus Justin Theroux), were the highlights of the night. Especially when you consider the fact that those two weren't the only selfies that she took.
I love me a good photobomb. That's why Benedict Cumberbatch and Jennifer Lawrence are two of my favorite celebrities; no one photobombs quite like them. However, the infamous selfie depicting Aniston and Theroux photobombing up a storm behind J. Lo is the best Instagram photo of the night, in my opinion. Considering the overnight success of the photo, it's no wonder they were forced to eventually release all the other times they did that exact same photobomb over the course of the night. But, first, the original photo.
Did you catch all seven of the J. Lo Oscar selfies below? No? Well, that's probably because they're just memes. So, without further adieu, here are seven other times J. Lo and Aniston photobombed the Oscars.
The Cast Of Big Hero 6
The cast of Big Hero 6, as well as directors Don Hall and Chris Williams, and producer Roy Conli, posed on the red carpet for a laugh. Can you blame J. Lo, Aniston, and Theroux for wanting to join in the fun?
Her Other Favorite Couple
Theroux and Aniston might be J. Lo's favorite couple, but she just had to endorse Eddie Redmayne and Hannah Bagshawe with this quick selfie.
John Legend & Common
Who wouldn't want to share in the wonder of Selma taking home an Oscar, even if it was only just for "Glory?" Besides, if I could get a selfie with John Legend, then I would totally go for it.
Emma Stone & Julianne Moore
Shockingly, Emma Stone did not attempt to photobomb Theroux and Aniston as they photobombed J. Lo. It was considered a missed opportunity by all involved.
Taking A Selfie Of Bradley Cooper Taking A Selfie
It's literally selfie Inception, you guys. Don't let it break your brain.
Lady Gaga
That's not the sound of music. That's the sound of the world's most epic photobomb.
This Weirdness
Yeah, this happened. And J. Lo absolutely needed to record it for all time by taking this amazing selfie. Who knows what or who she, Aniston, and Theroux might photobomb next?
Image: Getty Images; Kadeen Griffiths/Bustle