Who Says Fashion Week Isn't Feminist?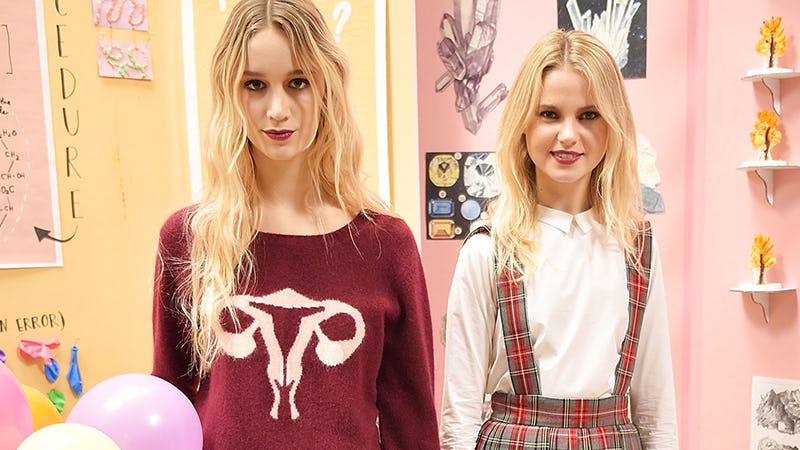 There has been great debate about whether or not Fashion Week is feminist. I tend towards the opinion that the event is fundamentally geared towards female empowerment but occasionally makes missteps in that crusade. However, Fall 2015 Fashion Week was perhaps the most overtly feminist yet, thanks to the efforts of designers and attendees alike. Not only did designers take to creating workhorse clothing for an ambitious and active woman, but several sought to open conversations about the individuals underneath the luxurious clothing.
In addition to more technical analyses of the female form than one could expect from viewing Fifty Shades Of Grey, designers encouraged their clients to think beyond their sartorial needs and dig a bit deeper. While the digging that occurred at some shows was arguably blush-worthy for those not accustomed to chatting about their nether regions with complete strangers, the result was a more holistic Fashion Week where lifestyle was placed on a higher pedestal than sartorial style. I can only hope that September Fashion Weeks to come will continue the discourse, because the hottest trend for 2015 is shaping up to be feminism, and what could be more haute than an empowered woman?
1. Carrie Hammer
No one does female empowerment like designer Carrie Hammer. You would be hard-pressed to find a more formidable group of women than those who walked as role models on Hammer's Fall 2015 runway. The roster of talent included actress Jamie Brewer and SVP of McCann Worldgroup Nicole V. Cramer, both of whom exemplified Hammer's female-driven enterprise. I feel quite confident in stating that neither an audience nor a group of models has been so enthusiastically invested in a fashion show until now.
2. Naeem Khan's Three-Piece Evening Wear Tuxedo
Naeem Khan is the unquestionable master of embellished evening wear (along with Marchesa and Elie Saab), but the designer chose to mingle his drifting gowns and beaded skirts with something different this year: a dashing, three-piece tuxedo. As the suit becomes the modish evening wear trend for female celebrities from Jennifer Aniston to Emma Stone, it seems only right that designers would procure a selection of chic suits for their most forward-thinking clients. 2015 may be the year that tuxedos supplant ball gowns on the red carpet — but don't hold your breath.
3. Rachel Comey's Unabashed Girl Talk
At Rachel Comey's intimate Fall 2015 runway presentation and celebration, the designer encouraged guests to take up the feminist gauntlet by chatting about their sexuality. None other than Tracee Ellis Ross whipped guests into a verbal frenzy with her incitements of guests to listen to their anatomy.
4. Rachel Antonoff's Anatomical Presentation
Feminism, by definition, is a concept with no concrete definition. However, to many feminism is the initiative to open a conversation about gender equality, female rights, and the female body. Designer Rachel Antonoff ran with the latter conversation, embroidering the female anatomy on one sweater and emblazoning another with the phrase "Seymour Pussy."
5. The Street Style Bloggers Who Actually Wore Clothing To Keep Warm
Though they were few and far between, a handful of brainy street style bloggers chose to maintain an optimal internal temperature instead of tempting frostbite to snag attention at New York Fashion Week. Silken skirts and peep toe heels may be bygone symbols of femininity, but the modern manner of demonstrating your empowerment is to take a more utilitarian approach to dressing — especially when the weather demands it.
Images: Getty Images