Wesleyan Students Overdose On MDMA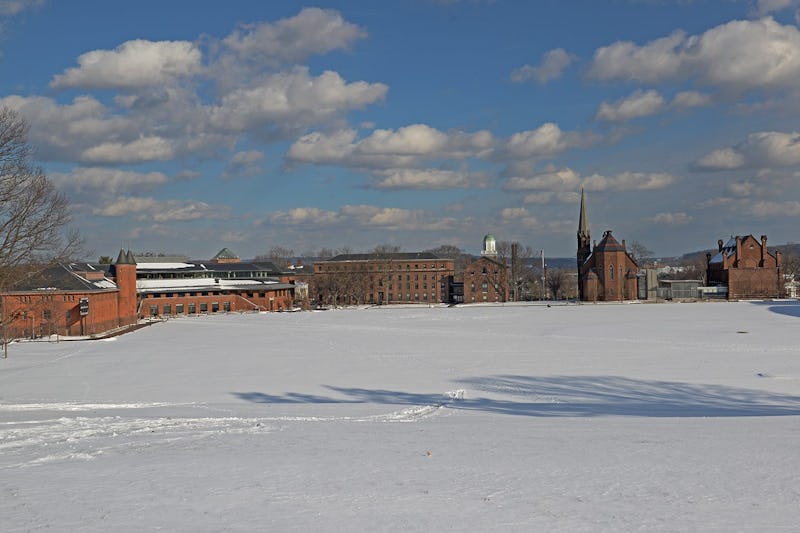 Over the weekend, nearly a dozen Wesleyan University students overdosed on MDMA, with one student remaining in critical condition. Reuters reports that 11 students from the private Connecticut university were transported to local hospitals early Sunday morning showing symptoms of drug overdoses "consistent with the use of Molly (MDMA)." Molly is one of the street terms for the powder form of MDMA, a psychoactive drug popular among young Americans.
A Wesleyan official told Reuters that one student, a sophomore, was in critical condition on Sunday, while two other students were still showing similar serious symptoms. However, WFSB in Hartford, Connecticut, is reporting that two students currently remain in critical condition, and two remain in serious condition.
The overdoses reportedly occurred following a party at the Eclectic Society House, a coed fraternity-like organization that operates as a part of the university. Students who attended the party told WFSB that people began overdosing after taking Molly, and police had to be called to the scene. Middletown, Connecticut, police say it was likely a "bad batch" of MDMA that led to the overdoses. Authorities are investigating the incident.
While most news outlets are reporting that 11 students overdosed over the weekend, Wesleyan University President Michael S. Roth wrote in a letter to students on Monday that 12 people received medical treatment after taking MDMA over the weekend. Roth added that 10 of the overdose victims were Wesleyan students, while two were visitors to the campus.
Roth also issued this plea to the Wesleyan community, urging students to stay away from illegal drugs:
I ask all students: Please, please stay away from illegal substances the use of which can put you in extreme danger. One mistake can change your life forever. If you have friends who are thinking about trying these kinds of drugs, remind them of the dangers. If you are aware of people distributing these substances, please let someone know before more people are hurt. You can make a confidential report at (860 685-2345). These drugs can be altered in ways that make them all the more toxic. Take a stand to protect your fellow students.
MDMA has received greater attention in recent years as the drug gains more popularity among young people, especially those who attend dance clubs or festivals. In September 2013, the New York City Medical Examiner confirmed that the drug was responsible for the deaths of two young people at New York's Electric Zoo festival that year. Around that same time, a young woman died after taking Molly at the House of Blues in Boston, sparking an investigation. Two other people overdosed at the night club the same night, but received medical treatment.
Research done over the past decade has suggested that MDMA use among college students has been steadily increasing, causing colleges and universities to issue warnings about the drug to their student communities. The drug has been known to cause dehydration and heart palpitations, quickly leading to serious health risks if not taken care of immediately.
Image: Wesleyan University/Facebook, Getty Images