I Went To A Club Pilates Class & Here's My Honest Review
The practice can help fix your muscle imbalances.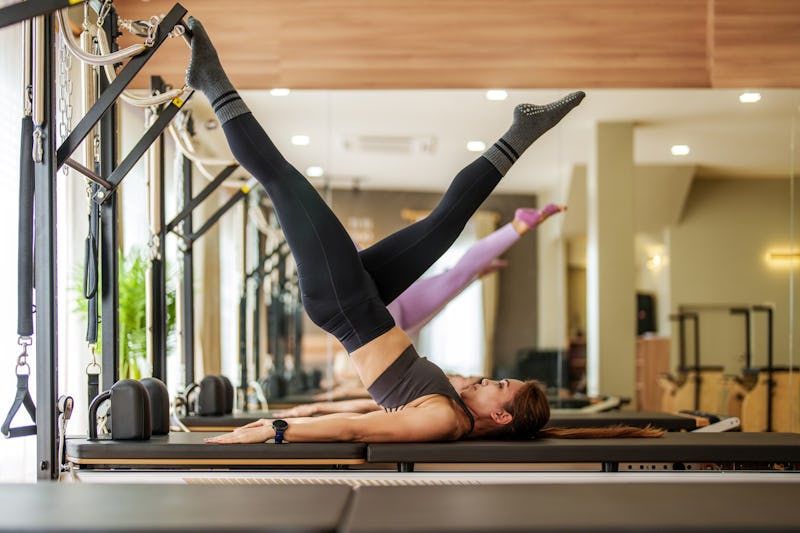 Chanin Nont/Moment/Getty Images
If you aren't sure what type of workout is best for you, Pilates is always a good place to start. It's a mix of strength training, flexibility, balance, and mobility work — so it really has a way of covering all the bases.
That's the name of the game at Club Pilates, anyway. These studios offer low-impact, full-body Pilates Reformer-inspired classes that are meant to boost your overall well-being. In general, Pilates is known for the way it improves muscle imbalances and posture via glide-y, suspension-style exercise, but Club Pilates has found other elements to add to the mix.
The studios use a rating system for their classes, so you'll know how hard it'll be and what to expect. If you're brand new, go for a Level 1 or Level 1.5 class. If you're looking for something more, a Level 2 or Level 2.5 would be a better fit. From there, you'll choose the style of workout you're feeling up for. There's a Reformer Flow with classic Pilates moves, a Cardio Sculpt that incorporates plyometric movements, a Center + Balance sesh that'll give you a deep stretch, and even a TRX band class that's more like a boot camp.
As someone who could always use a nice stretch, I knew I had to give Club Pilates a try. Keep reading below for my honest review, as well as the one move I need to do again ASAP.
What Is Club Pilates?
With over 600 studios around the country, Club Pilates is one of the biggest Pilates chains around. It's a one-stop shop for cardio workouts, strength, and flexibility training — and the goal is to help you feel better in everyday life. According to Club Pilates, consistent Pilates practice will improve your posture, strengthen your core, and correct muscle imbalances so that you can move more freely and easily throughout your day. (Pilates did start off as a form of rehab, after all.)
When you walk into your workout, you'll use their signature Pilates Reformer, as well as other tools like TRX bands, platforms, Bosu balls, mats, rollers, and more all at your own, personal station. What you do with them will depend on the class you take and what you're looking for, whether it's a cardio workout, a deep recovery stretch, or something in between.
While the Reformer can look intimidating, Club Pilates is all about welcoming in new exercisers of all ages and fitness levels. If you're worried about feeling lost in class, you can book a free 30-minute Introductory Class where a trainer will walk you through Reformer Pilates basics, so you'll feel ready to hop on by yourself.
Pricing varies based on the membership tier you'd like to go for. Most studios offer 4-packs, 8-packs, and unlimited memberships, as well as a Passport Membership that allows you to go to different studios. A free 30-minute intro class, drop-in classes, personal training sessions, and on-demand streaming classes are also available.
My Experience
One of the first things I noticed when I walked into Club Pilates was the variety of ages. Oftentimes, fitness classes are a sea of fellow 20- and 30-somethings, but my Reformer Flow session had young people who were there for a full-on workout, as well as older people who told me they were stopping by for a weekly stretch session. To me, that meant the class had a multitude of perks — from strength and cardio training to more physical therapy-esque benefits.
After picking up some grippy socks — you need them so your feet don't slip off the Reformer — I went into the workout space and grabbed myself a spot. I've taken Reformer classes in the past but was still kind of intimidated by the sheer amount of equipment. (Seriously, there's so much going on!) Luckily, the instructor whisked on over to set up my gear and explain how everything worked.
There are springs on the Reformer that you can unhook and adjust throughout the workout to add or take away tension. There are also cable straps with loops to pull on during arm exercises and leg stretches. Next to the Reformer, there's a Bosu ball for balance work and a platform for push-ups. There's also a wall with spring cables hanging down that you can use for arm and core exercises. Oh, and the whole Reformer slides back and forth, of course, kind of like a rowing machine.
The workout started with a warm-up and then moved on to squats that we did while lying back on the Reformer. Since I was pushing against the springs instead of my body weight, these felt so different from my typical floor squat routine. It was honestly a nice change and one that allowed me to focus on form.
The squats were quickly followed by bicep curls and arm circles using the cables before we moved to the floor for a round of oblique twists. After that, it was back to the Reformer to put our feet in the straps for leg circles. This was my absolute favorite part. Not only did the straps help me stretch muscles I didn't even know I had, but it also isn't something easily replicated at home, so it felt like a treat.
We finished class with more floor work, a round of hip-opening lunge stretches, and that was that. All in all, it was 45 minutes of stretching, strengthening, and sweating ever so slightly.
The Takeaway
Good news: The equipment wasn't nearly as tough to use as I thought it would be. The instructor explained how to do each move and, if I ever got lost, all I had to do was ask for help or peek over at the person next to me. I loved how the workout reached a variety of muscles from my arms and core to my glutes and legs. Mostly, though, I'd go back for those sweet, sweet leg circles.
At one point, I was pulling on the cables in an imbalanced way, meaning I was favoring one side during an exercise. The instructor noticed right away and told me that the imbalance would start to correct itself if I kept coming back. Since the Pilates Reformer helps you use both sides of your body equally, things eventually start to even out. How cool is that?
Club Pilates classes may be low-impact, but they still light up your muscles and give you a good stretch, so it really does feel like you're doing something good for your body. I'd recommend giving it a try if you're looking for a gentle, more personalized workout.
Studies referenced:
Campos de Oliveira, L. (2015). Effects of Pilates on muscle strength, postural balance and quality of life of older adults: a randomized, controlled, clinical trial. J Phys Ther Sci. doi: 10.1589/jpts.27.871. Epub 2015 Mar 31.
Kloubec, JA. (2010). Pilates for improvement of muscle endurance, flexibility, balance, and posture. J Strength Cond Res. doi: 10.1519/JSC.0b013e3181c277a6. PMID: 20145572.
Pinto, JR. (2022). Is pilates better than other exercises at increasing muscle strength? A systematic review. Heliyon. doi: 10.1016/j.heliyon.2022.e11564.