What's Jackson Been Doing Since 'Gilmore Girls'?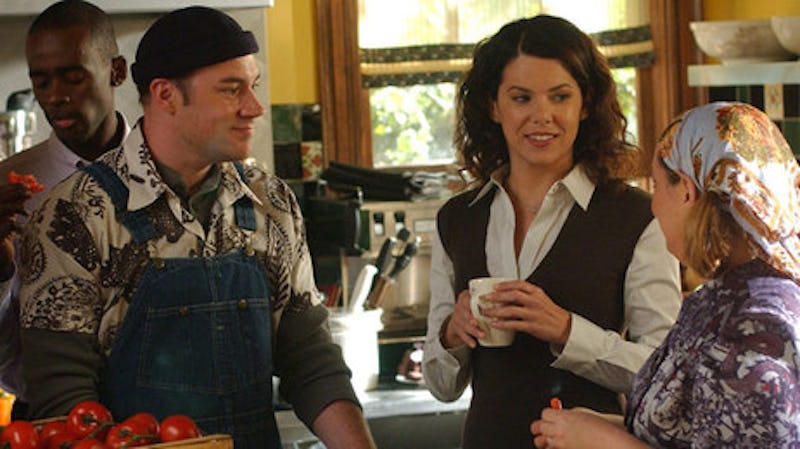 For a show as populated with colorful supporting characters as Gilmore Girls was, a lot of those characters are totally under-appreciated, and Jackson Belleville is one of them. Over the course of the show, Jackson went from eccentric produce guy to the perfect husband for Melissa McCarthy's Sookie, and it was hard not to love him — especially when he was wearing photo pajamas decorated with pictures of himself from his high school wrestling days. But now that one of my favorite shows of all time has had a resurgence of popularity after being added to Netflix toward the end of 2014, it's time to ask one very important question: What happened to Jackson Douglas, who played Jackson on Gilmore Girls ?
Unfortunately, Douglas (like many of Gilmore Girls' stars) has made a definite effort to stay out of the public eye. He can't be found on social media... or anywhere else on the Internet, really. The few details that are available about his personal life are limited to the fact that he filed for divorce from his wife (and one time Gilmore Girls guest star) Alex Borstein in October 2014. They were married for 15 years and have two children together, 7-year-old Barnaby and 3-year-old Henrietta, and if you don't think those sound exactly like names Jackson Belleville would've chosen for his children, you're crazy.
But aside from that stuff? Douglas has picked up a few acting jobs here and there, and you may have even recognized him from some of them, on TV and at the movies.
Family Guy
It's not surprising to find out that Douglas has had a few stints on Family Guy since Borstein stars as the voice of Lois Griffin. Since 2001, Douglas has been happy to lend his talents to the show in several different roles, but most often, he's the voice of Family Guy's version of Jason Voorhees. If you close your eyes while you watch the above clip, you practically see Jackson Belleville in his flannel, freaking out about birds getting to his crops or something.
The Guilt Trip
In the movie that puts Barbra Streisand and Seth Rogen on a road trip as mother and son, Douglas has a small role as a Home Shopping Network exec when Rogen's character, Andy, pitches his cleaning product in front of the powers that be at HSN. Predictably, Douglas plays judgmental perfectly, and pretty much rips Andy's pitch to shreds.
M.Y.C.
In a web series that also starred Borstein, Douglas once again put his voice talents to work. M.Y.C. stands for Mice York City, and it's kind of adorable. Douglas voices a news anchor... and yup, he's a mouse.
Image: Warner Bros. Television