Bryce Got To Perform With Pharrell on 'The Voice'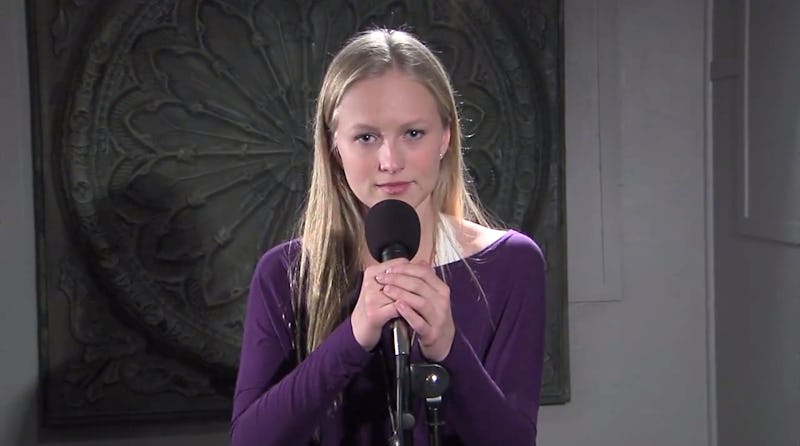 Getting rejected from The Voice has to be pretty awful. You spend countless hours practicing for the best audition, trek all the way to California, and give the performance of your life on stage just to be told no — all on national television. I'm dying inside just thinking about it. Well what if I told you your consolation prize was performing an award-winning song with Pharrell? Sounds a lot better now, right? That's exactly what happened to 17-year-old Bryce Sherlow, and every The Voice contestant ever is cursing her because it was the coolest thing ever.
Sherlow auditioned for The Voice for the same reason every contestant does — to kickstart her music career. As a soloist of her New Jersey high school's acapella group, Sherlow thought it was finally time to step out of the ensemble and into the spotlight. Being that she's so young, her vocals need a lot of work — and that's what ultimately kept her from turning any chairs around. Her rendition of "Cool Kids" was solid, but it lacked any originality and passion. Her technique is also a little rough, but it's clear that she has a very strong base and just needs the proper training.
Sherlow probably thought her audition was over at this point — and I did too. But after mentioning that she sang Pharrell's "Happy" at acapella nationals, the judges asked her to sing it. Christina Aguilera suggested Pharrell sing with her — AND HE DID. He jumped on stage and performed with Sherlow as if he were performing on the Grammy's. If I were Sherlow, I would've passed out on that stage immediately. The fact that she was able to maintain professionalism and deliver a great duet performance WITH PHARRELL WILLIAMS was pretty amazing.
I was really hoping the judges would change the rules for her and let her join a team, but unfortunately they didn't. They all encouraged her to come back next season — which will probably be in a few months at the rate this show moves — so hopefully we'll see her come back and get a second chance. Even if Sherlow doesn't return, she can brag to her acapella group (and the entire world for the rest of her life) that she performed with Pharrell on national television — and that's better than any The Voice trophy.
Image: YouTube - Bryce Sherlow