'Voice' Contestant Treeva Has A Unique Gift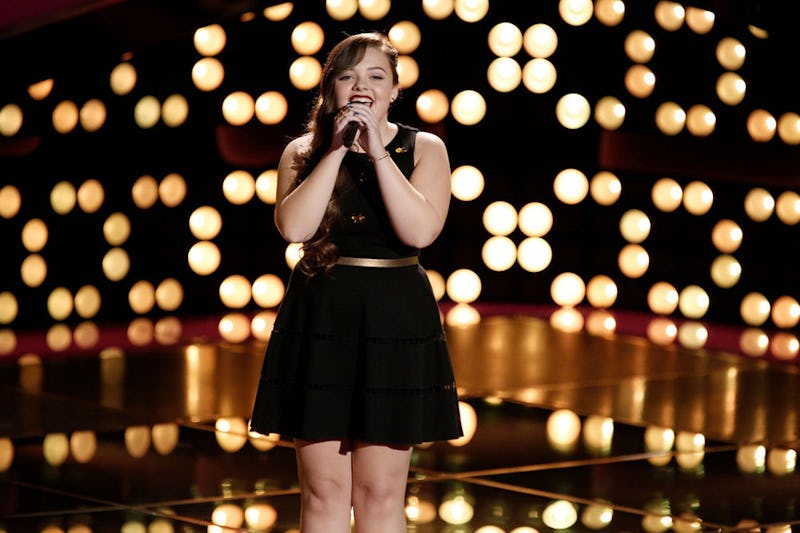 There's one thing I love more than the talent on The Voice — and no it's not Adam Levine — it's the incredible stories of the contestants. Sure, a story can only get you so far. But since every contestant that makes it to The Voice Blind Auditions is talented, their stories only put the cherry on top and make them stand out even more. To overcome a difficult or challenging past and still have the confidence to pursue a career in music is a pretty amazing thing, and I'm glad The Voice highlights these contestants and their accomplishments. One contestant who is an excellent example of overcoming challenges is 16-year-old Treeva Gibson. Both of Gibson's parents are deaf and she suffers from minor hearing loss herself. Despite this, she taught herself all about music and managed to score a spot on Team Christina for season eight.
Gibson's story is incredibly inspiring and that's what makes her so awesome. Despite learning she had mild hearing loss, Gibson continued to pursue her singing career. Her hearing loss inhibits her from hearing an artist perform on a track, but she is able to hear the instrumental part of the track. Though some may see this is as a disability, it's a unique gift that she can use to her advantage. Not being able to hear the way the song is sung originally allows the Maryland native her own artistic freedom with a piece of music. Gibson isn't affected by any artist's unique style, and that gives her freedom to be herself — which is a pretty amazing advantage to have in this game.
Despite the fact that Gibson's parents may never hear her sing, they now know that she is as good as they think she is. Seeing her sign that she chose Team Christina brought tears to my eyes — lame I know. Gibson's talent needs some help from Aguilera, but if she takes the direction to heart she could excel in this competition — and I really hope she does. Whether Gibson makes it far in this competition or not, she's proved to both her parents and herself that she has a future in the music business — and that's a huge accomplishment.
Image: Tyler Golden/NBC