Supermodels Might Be Making a Mag Cover Comeback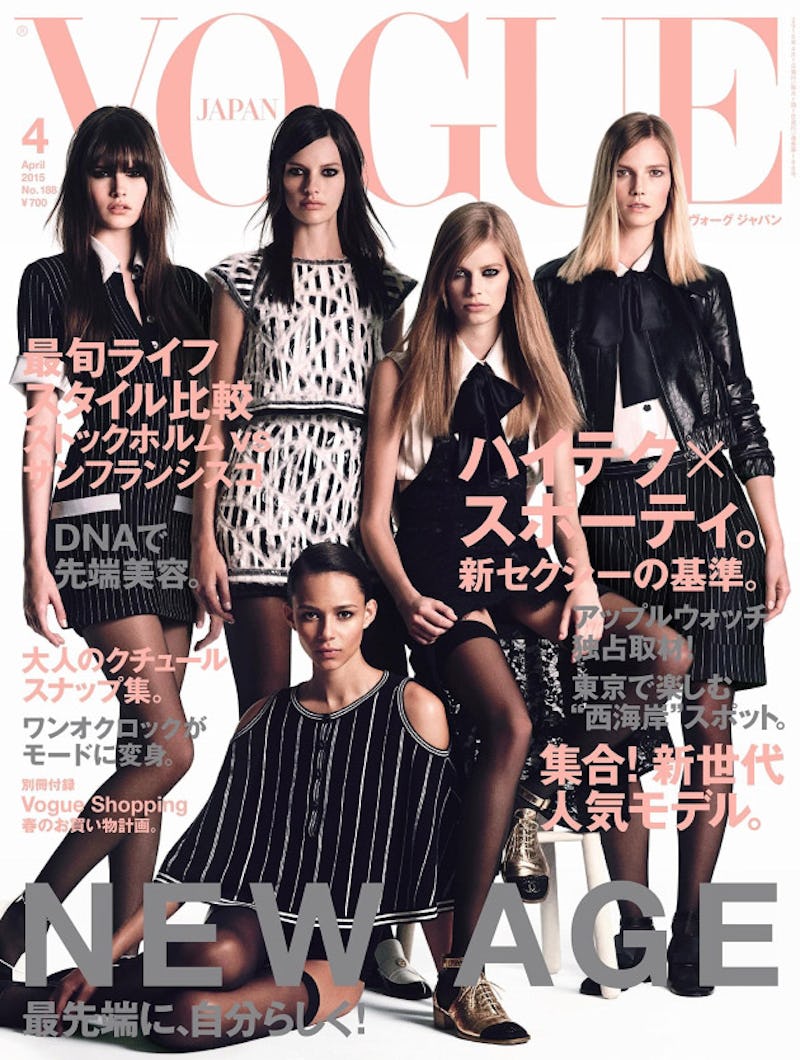 The newest issue of Vogue Japan features 15 up-and-coming models on its April cover. Well, it's technically a foldout cover—it would be quite impressive if they were able to fit 15 models in one cover shot. The front cover features Vanessa Moody, Amanda Murphy, Lexi Boling, Suvi Koponen and Binx Walton.
Once you open the foldout, 10 other models appear, including popular runway fixtures like Malaika Firth and Lui Wen, and other rising stars like Maartje Verhoef, Ondria Hardin, Sam Rollinson, Natalie Westling, Issa Lish, Daria Strokous, Jamie Bochert and Chiharu Okunugi.
Of course, Vogue Japan isn't the first or only publication that has put a group of models on its cover. American Vogue has been doing this in previous years, most recently the 2014 September issue, which featured a crew of social media famous models dubbed the "Instagirls," including Cara Delevingne, Karlie Kloss, and Joan Smalls.
Does this current trend mark the return of the supermodel? With models like Kendall Jenner and Gigi Hadid becoming it-girl sensations overnight and quickly securing spreads in top fashion magazines, it's only a matter of time before they start securing covers, too. And if society's fanatical obsession with models continue, it looks like the era of the supermodel will surely be making a comeback.
Here's some evidence: Vogue featured Natalia Vodianova on its November 2014 cover, and now its March 2015 cover features Karlie Kloss (and pal Tay Swift). Lucky Magazine is perpetuating this trend as well, with Miranda Kerr on the cover of its June/July 2014 issue and Karlie Kloss on its October 2014 issue. American magazines tend to be more inclined to put celebrities on its cover, as a result of Anna Wintour's revolutionary decision to end the era of the supermodel. But with models slowly evolving into celebrity models, it's only a matter of time before the supermodel comeback is in full force in the United States. Mark my words, everyone. It's going to happen.
Images: Vogue Japan