How Would Katniss React To Prim Being On 'DWTS'?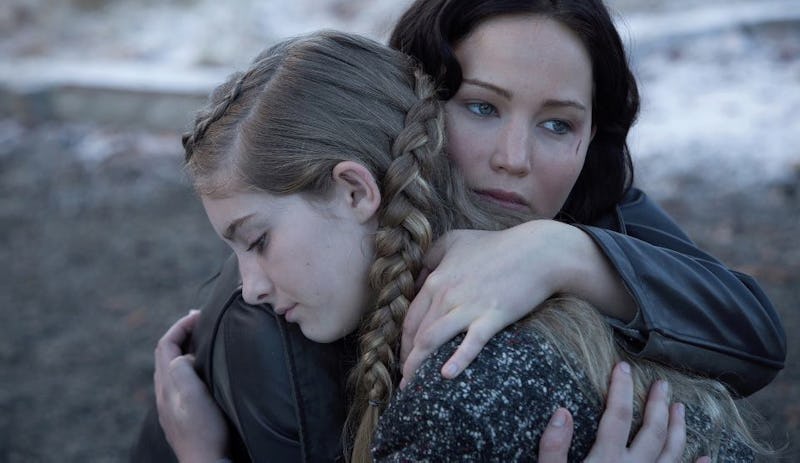 Exciting news for Hunger Games fans! Willow Shields is participating in the new season of Dancing With the Stars. The 14-year-old actress is best known for playing Primrose Everdeen in the YA dystopian series, but soon she'll be dancing up a storm alongside partner Mark Ballas. He's won twice in his DWTS career, so she has a real shot alongside him. Although she doesn't have much professional experience, Shields has previously said that she loves to dance, and she also loves to watch dancing shows. So, it's probably a dream come true for her to get to be on one. (Especially with Ballas as a partner, the lucky girl.)
But because I'm unable to separate The Hunger Games stars from their on screen counterparts — it's my coping mechanism so that, even when the series ends, it's not really over to me — I started to think about what would happen if it was Prim who was really on DWTS. What would Katniss say if she found out her sister was part of a reality show? I think it's safe to say the Hunger Games winner would be freaked out for her little sis.
Finding Out Prim Was Going to Be On a Television Show
After her time in the arena and in the spotlight, there is no way Katniss would want that life for her sister.
Learning That She Actually Wanted to Do it
Prim, what are you doing?
Trying to Volunteer Instead
What do you mean that's not how it works?
Giving Prim Hunting Tips to Help Her Succeed
Katniss would want to help her little sister survive.
Getting Confused That There's Another Peeta
Don't worry, Katniss. That's just Peta Murgatroyd, Michael Sam's partner.
Learning the Show is Just About Dancing & Feeling Relieved
Maybe this will actually be OK?
Trying to Give Her Dancing Tips
But all Katniss knows is about flaming dresses and spinning, so it's not very helpful advice. Leave the dancing to the pros, Katniss.
Showing Up Each Week to Cheer Her On
Katniss would be her biggest fan.
And to Help Her With the Costumes
If anyone knows a thing or two about elaborate get-ups, it's Katniss. Thank you, Cinna.
But Also to Keep an Eye On Things Because You Never Can Trust That Capitol
Don't cross her or her sister, ABC.
Images: Lionsgate; itsgoodmorning, bellareke, henry-thedarkmage, harco/Tumblr; giphy (5); rebloggy