How I FINALLY Stopped Washing My Hair Daily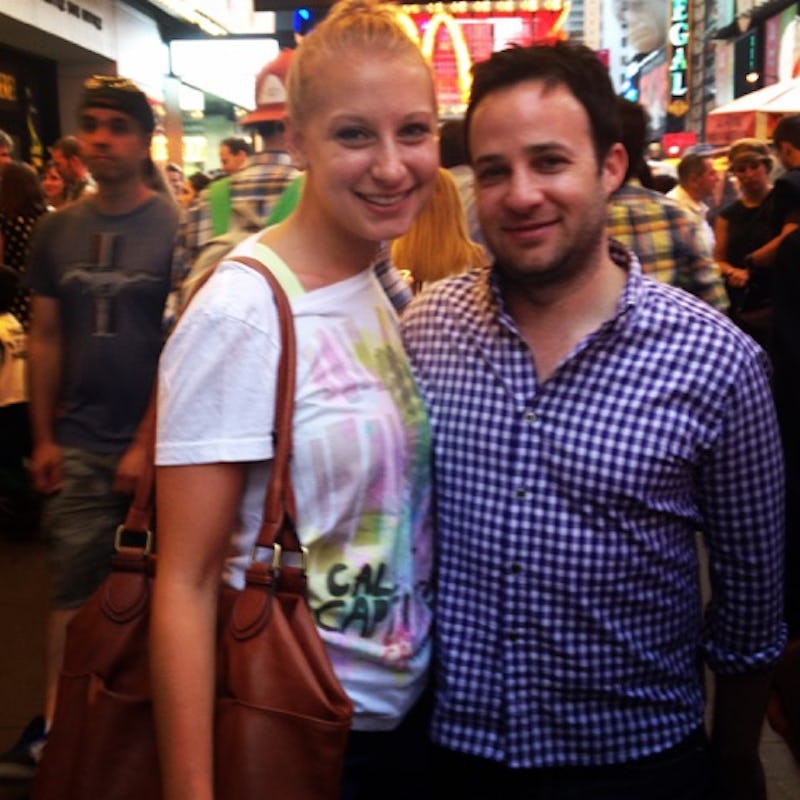 I knew something needed to change the night I ran into Danny Strong (Doyle, from Gilmore Girls!) in Times Square. I woke up late and opted to skip my usual morning shower. In an effort to still look presentable, whenever I skipped my morning shower I would place a casual top-knot on the very tippy-top of my head. It was still obvious that my hair was a little greasy, but it looked better than if I had left it down.
Recently, I read an article by Bustle's Emily Abbate that stated "your teens are for showering way too often" and offered other tips for how your beauty routine changes in your twenties. While I resonated with many other altercations, I'm 21 and, until recently, I had to shower everyday to keep my hair from looking disgustingly greasy. Not to be dramatic, but I have the thinnest, finest hair on this earth. Don't get me wrong, my thin hair has come with some great advantages. It takes literally two minutes to blow dry and I'm complimented on its shine and softness. Unfortunately, it also has its disadvantages. It's difficult to curl, achieve any sort of volume is always in vain and I have to shower daily if I want to go out in public.
I tragically found out the latter in high school. My friends would always whine about oversleeping and missing their showers. Besides their less-made up face, I couldn't tell. When I overslept, however, my hair was a mess and just gross to look at. I attempted showering right before bed, just to get a few more zzz's in the morning. Didn't work. My mother and sister tried to introduce me to dry shampoos. Didn't work. I believe I've tried over 30 different brands of dry shampoo. I just thought this was a burden I was going to have to bear my whole adult life.
When my un-showered self ran into Danny Strong, it was the worst moment of my life. Something had to change. So, when my editor asked if anyone would be willing to try, my hand (still reluctantly) shot up, promising to myself (and her) that I would avoid the public eye on those no-showering days. Here goes nothing.
Week 1
I wasn't kidding. This is Day 1 of Week 1 of not washing my hair. And I woke up like that. My hairline looks a mile back from what it actually is and you can see every (grease soaked) strand of my hair.
Instead of my typical top-knot, I vowed to stay inside and write, so I just did a high ponytail. Just in case I would need to open the door or quickly run out for coffee/snacks. I was supposed to start off the experiment slow, so I only skipped showering one day out of seven this week.
Week 2
I went two times this week without washing my hair. The first picture is how I woke up and the the top knot I stuck with the rest of the day. The second picture is how my hair looks down, without showering.
The second day, I actually saw improvements. They were minor, but they were still improvements! My hair would look much more greasy than this if I wore it down in high school. I still wasn't comfortable enough to wear it down in public, but was excited that it did actually seem to be working.
Though I felt like I had tried just about every product on the market, I decided to give it one more shot for the sake of this experiment. My editor recommended DryBar Detox Dry Shampoo, so I incorporated that into my routine on the second week. It. Was. Magical. The dry shampoo worked! On my stubborn, fine, hair! And it was so simple to use! Although neither of these pictures are with the dry shampoo, this product actually made the month bearable.
Week 3
This is the week that changed everything. I mixed up the schedule and went about every other day without washing my hair. I noticed a huge difference, just throughout the week. It was definitely still a little greasy, but not too noticeable. My top-knot actually looked healthier, like I voluntarily chose to rock it that day, rather than doing it out of necessity.
I also ventured out in public with my hair this week. Brunch with friends, shopping trips, errands... the whole shebang. For once, none of my friends could have guessed that I skipped washing my hair. In fact, I got more compliments on how my hair looked (and smelled!) when I used the dry shampoo, rather than when I washed it.
Week 4
Sans-shower, sans-dry-shampoo. And there is a tiny bump of volume! And is that a little wave I see? I gladly took that bump of volume as a tiny bump of hope. One day, I may be able to skip shampooing, not use dry shampoo, and proudly go out in public. Maybe.
Images: Hayli Goode (5)