Roger From 'Sister, Sister' Has Really Grown Up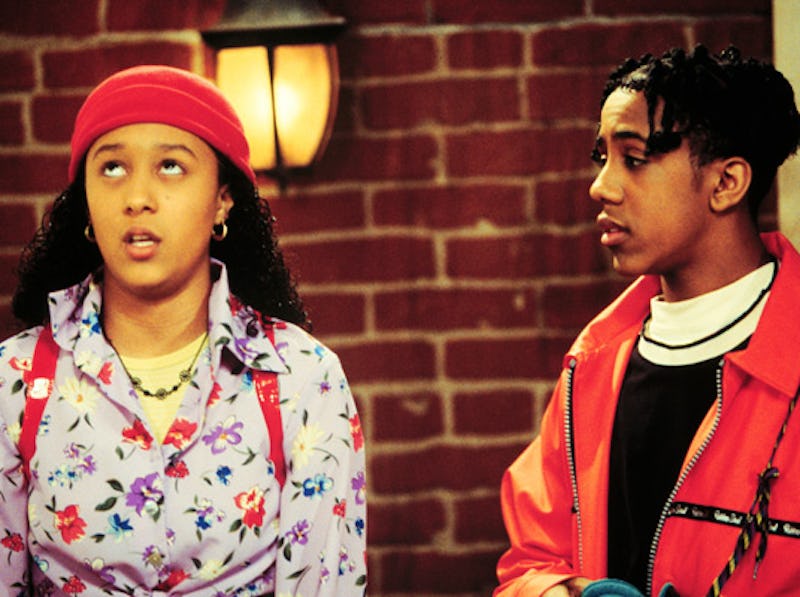 Everyone has that slightly annoying childhood friend growing up, but for a lucky few, that childhood friend ends up growing into kind of a babe. That's what happened to Tia and Tamera on '90s sitcom Sister, Sister, much to the chagrin of the twins. Roger, the annoying neighbor kid next door whose main interaction with the girls involved them yelling "Go home, Roger!" hits a growth spurt in the middle of the series, causing the girls onscreen (and the viewers watching at home) to collectively swoon. Roger may have popped in and out of the series over its six seasons, but that didn't stop him becoming a fan favorite — as was the person who played him, actor Marques Houston.
So what did Houston do after his turn on Sister, Sister? Like his character Roger, Houston had killer pipes, which he used in his second career as an R&B artist. Houston was a founding member of R&B group Immature, which later was renamed IMx. The group actually started before Houston began his turn on the sitcom, and the show incorporated IMx into the series by having the group guest star on an episode. In order to do so, Houston played both Roger and Roger's cousin on the episode — talk about meta. Check him out at the 15 minute mark in the video below.
After IMx disbanded in 2002, Houston went on to work as a solo artist, recording four studio albums from 2005 to 2010. Despite his musical success, Houston didn't give up on acting. In 2004, five years after the end of Sister, Sister, Houston starred in You Got Served, a film about a dance crew looking to win a major battle. And in case you didn't already know, Houston has some serious moves — check him out in his music video for his single "Circle" below.
Houston's had success in sitcoms following his time on Sister, Sister as well. He had a three-episode arc on One on One in 2004 and, later, starred on the spinoff series Cuts as the same character from 2005 to 2006.
And then there's the inevitable straight-to-DVD horror movies that every former sitcom actor has to do as per some law of the universe. Houston starred in the perfectly titled Somebody Help Me in 2007 and returned for the TV movie sequel Somebody Help Me 2 three years later in 2010. He was joined by his You Got Served co-star and fellow R&B singer Omarion Grandberry.
One of Houston's most recent projects involves him taking on an entirely different role in a production. The triple threat added a fourth title to his resume when he co-wrote the feature Battlefield America, a film about a pro dancer who helps a group of misfits prepare for a dance competition. Clearly he's learned a thing or two from You Got Served.
Houston may be a seriously hardworking Hollywood hottie now, but '90s kids will forever remember him as the annoying kid next door. You know, the one that got gorgeous.
Images: The WB; Giphy