Scarlett & Gunnar Should Stay Apart On 'Nashville'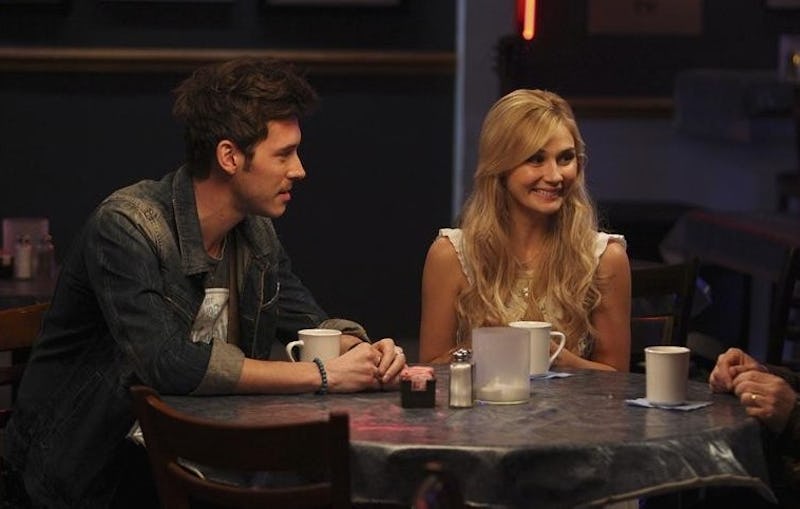 Scarlett O'Connor and Gunnar Scott's chemistry on Nashville is off the charts, and that's not just because they are two very, very attractive people. Not only do they make wonderful music together, composing and singing some of the show's best tunes, but Scarlett & Gunnar were also one of Nashville's most-shipped couples, cementing their romantic relationship after Gunnar got the news of his brother's death (talk about a traumatic pairing)? But — and here comes the controversial part for Scunnar fans — they were the worst couple on the show. Scarlett is so whiny and shy, and Gunnar has more baggage than a steamer train. How could these two sustain a relationship?
Well, thankfully for the tunes on the show, they couldn't. Turns out that the only way that Scarlett and Gunnar are compatible is if they are putting pen to paper: Their melodies were always beautiful, their lyrics poetic, and their musical chemistry palpable. The only place Scarlett and Gunnar balanced each other out was on stage, and that's fine. Why? Because the relationship of talented romantic duos never, ever works out. Sure, they write brilliant music for a short time, but then the romance explodes and so do the songs (after a breakup album or two, at least). It seems to me that partnerships are the way to go in songwriting. Let's look at the history of some amazing songwriting partnerships and see if these couples are still together (spoiler alert: they're not).
The Civil Wars
Joy Williams and John Paul White released a brilliant country album, Barton Hollow, in 2011, when Williams was married to their manager and White had his own relationships. After their debut album was released and their second album was delayed, rumors began to fly that the two had embarked on an affair that had ended badly. The Civil Wars has since broken up, destroying those of us waiting on a follow up to "If I Didn't Know Better" — yep, they wrote the first song that Scarlett and Gunnar sing on Nashville.
Stevie Nicks & Lindsey Buckingham
Everyone knows Stevie Nicks and Lindsey Buckingham as two fifths of Fleetwood Mac, but they were once just called Buckingham/Nicks. Everything seemed great. Then they joined Fleetwood Mac, pretty much promptly began cheating on each other, and called it quits. Luckily, the songs that each respectively produced became Rumours, Fleetwood Mac's best-selling album and arguably the greatest record of all time (I will fight you, OK?), but here's the thing: They didn't write those songs together. Nicks and Buckingham hated each other, and it was a while before they could even share the same stage.
Carole King & Gerry Goffin
Married in 1959, Goffin and King were the songwriting duo of the 1960s, penning top tunes like the Shirelles' "Will You Love Me Tomorrow," Little Eva's "Loco-motion," Earl-Jean's "I'm Into Something Good," and Aretha Franklin's "(You Make Me Feel Like) A Natural Woman." The duo divorced in 1968 and King released Tapestry, the most successful album of her career, in 1971. It earned her a few Grammys and secured platinum status, but afterwards, King never regained the success of her earlier career (neither did Goffin).
ABBA
Agnetha Fältskog, Björn Ulvaeus, Benny Andersson, and Anni-Frid Lyngstad had a grand old time of it in the 1970s with hits like "Dancing Queen," "Honey Honey," "SOS," and "Fernando." I mean, come on — there's even an ABBA musical. But playing in a band with two married couples is a bit complicated: In the early 1980s, each marriage was disintegrating and both would eventually end in divorce. After both breakups, ABBA couldn't regain the popular status they enjoyed in the 1970s.
Images: Mark Levine/ABC; Getty Images (4)