Anthony Sets a 'Voice' Record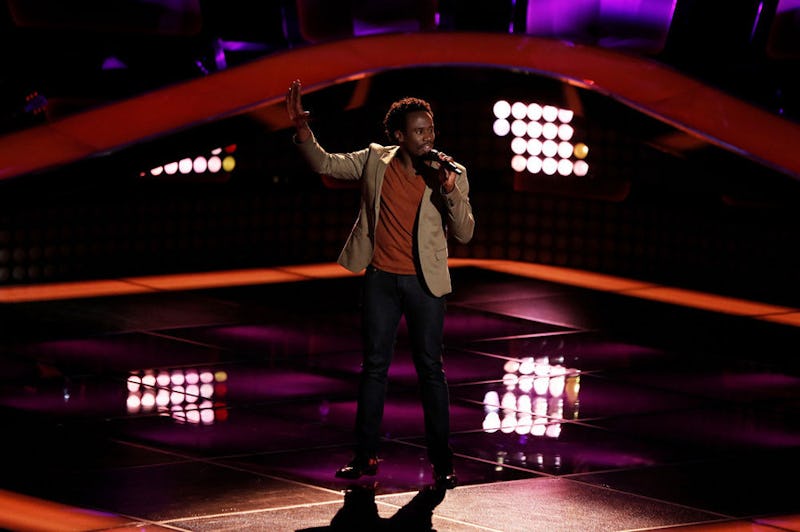 It's a known fact that a four-chair turn is the most coveted reward during The Voice Blind Audition. It sets you on the path of major Voice success — you get to choose the coach of your dreams, you get to brag about it for the rest of your time on the show, and you know you can sing. One performer that has all this and more for is Anthony Riley, who scored the fastest four-chair turn in The Voice history.
That's a pretty incredible feat right there. But what's even more incredible are the coaches super quick cat-like reflexes. Seriously — all four coaches had their hands on their buttons as soon as Riley sang his first note. The only time I move my that quick is when I'm fighting for the last piece of chocolate. Their lightning speed judgements could have led them wrong, but fortunately they didn't. Riley's performance of "I Feel Good (I Knew That I Would)" was fun, strong, and technically perfect. He nailed it.
The 28-year-old is no stranger to performing — and his story of how he got into music is really cool. After graduating high school, the Philly native's dad encouraged him to start street performing. Not many parents would tell their kids to go sing on the street instead of pursuing a solid career or college education — but Riley's dad did and it set him up for greatness. If more parents were that supportive of creative careers, the world would be a much happier place. After a run-in with the law for disturbing the peace (aka singing on the street), Riley fought against the charges and won — and went on to be named one of the top street performers in Philadelphia.
Well, Riley's street performing skills certainly paid off on The Voice stage because he had the coaches pulling out all the stops to win him over. Christina claimed she wanted to "be a trailblazer with him," Blake wanted to "put the whiskey in his water," and Adam whined and tried to turn on the charm (as he always does). In the end it was the calm, cool, and collected Pharrell who won over Riley and gained a truly amazing performer on his team. Watch out Adam, Blake, and Christina — because Pharrell already has the team to beat.
Image: Tyler Golden/NBC