Brandi & Kyle Team Up on 'RHOBH'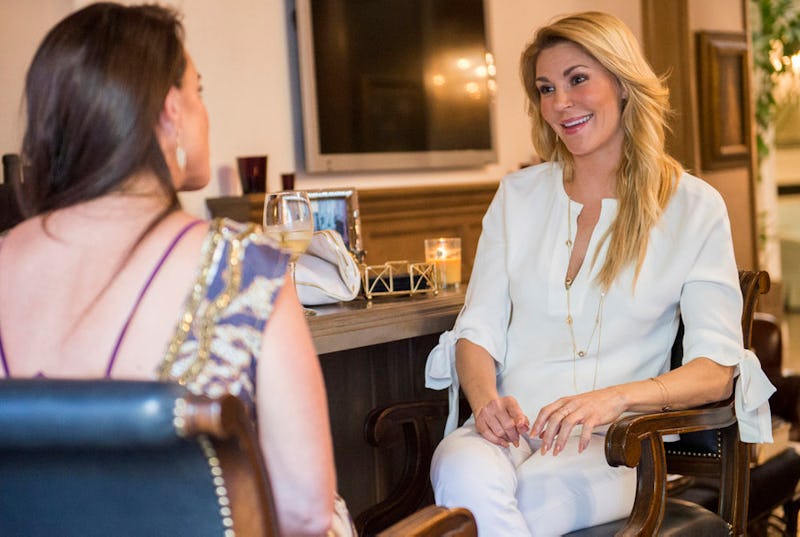 The beginning of an episode of any Real Housewives franchise usually starts either one of two ways. Either we start out slow by watching little vignettes of the Housewives running errands or chilling at home, or we pick up right where we left off in the middle of some crazy bout. However, Tuesday night's episode of The Real Housewives of Beverly Hills began neither of those ways but getting right into some new drama involving Brandi Glanville and Kyle Richards during none other than a scavenger hunt.
Yes, seriously. A scavenger hunt. For about a third of the episode, we watched the Housewives run around Beverly Hills finding clues and solving puzzles as part of some sort of bonding activity orchestrated by Yolanda Foster. Their idea of problem solving usually just involves trying to figure out which Housewife stabbed them in the back, so yes, this was hard to watch.
All seven of the Housewives were there, plus ex-Housewife Camille Grammer and Eileen Davidson's friend Lynn, who actually seemed pleasant, which is rare when the ladies bring outsiders into the fold. They split up into three different Dream Teams, which was a nod to when Yolanda drew hearts on only Brandi and Lisa Vanderpump's place cards at her dinner party last season. Lisa Rinna has done two scavenger hunts in the past, one in "fancy cars" in Vancouver and "a boat one," so she's basically a pro at this sort of thing.
Everyone else is not as excited, especially Brandi and Kyle, who somehow end up on the same Dream Team. It's so strange how the two Housewives involved in the biggest feud of the season so far have been forced to work with one another in a problem-solving situation. I wonder how that happened.
You would think that either Kyle or Brandi — or even both of them — would have refused to work with one another. However, Kyle and Brandi were surprisingly cordial during the whole scavenger hunt. They put their differences aside and just focused on the task at hand.
Oh, there was plenty of shade thrown behind each other's backs, of course. They haven't completely lost their minds. Like, Kyle did refuse to drink from the same straw as Brandi, because Brandi. Kyle asked us, "Can you blame me?" No, Kyle, we can't. But for the most part, they held it together and nearly won the whole shebang. Eileen, Lynn, and Kim's team won, in case you were wondering. But I have to say, I was a proud mama.
Images: Nicole Weingart/Bravo; realitytvgifs/Tumblr (2)