Camilla Deserves Some More Time On 'Empire'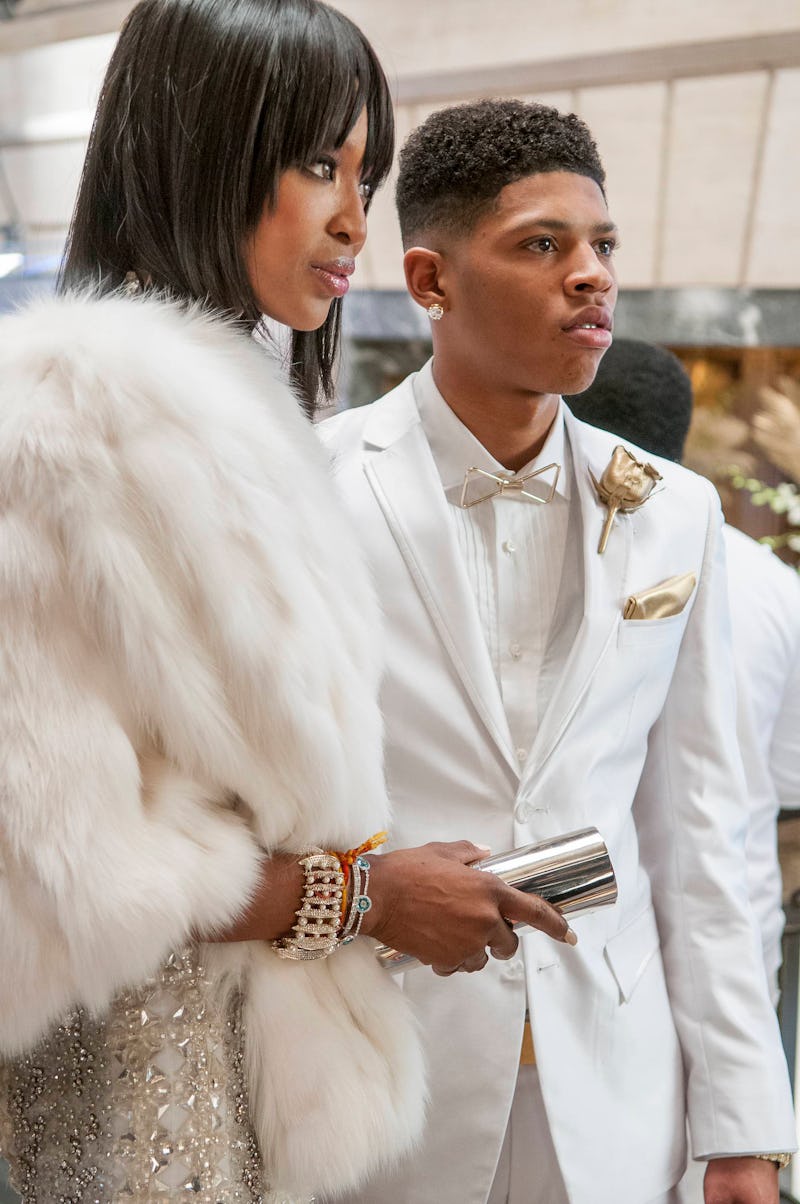 On Fox's Empire, the one woman Hakeem Lyon (played by Bryshere Gray) has called momma isn't even close to being his mother Cookie (Taraji P. Henson). Actually, it's his lover Camilla, played by supermodel Naomi Campbell. He's called her "momma" and his "bae," but to the public, Hakeem is dating pop star Tiana (Serayah McNeil) and they're known as "Takeem," of course. The young rapper and the fashion designer's affair is an open secret, though. But how long will it go on for — and how long will Campbell be sticking around Empire ? It looks like Wednesday night's episode could be her last.
IMDB lists Campbell's role as Camilla as four episodes long, with the last being Wednesday night's "The Lyon's Roar." But I doubt this will be the last we see of Camilla, who it feels like we've only started to get to know. "I think there's going to be an understanding here from a lot of women who have been through that in their lives and I think people are going to want to see Camilla succeed – and Hakeem," Campbell told EurWeb. "I think they're going to want to see them work it out and be able to come out into the open."
Though it hasn't been publicly stated in the press, it seems completely possible that Campbell's role as Camilla could be extended. What kind of trouble could she get into? Plenty. Here's what I think we could see from Camilla if she continues on Empire.
Camilla & Cookie
Camilla's a fashion designer from London and wants to start showing/selling her brand in the United States. Cookie wears some wild designs. Wouldn't it be great if at some point Cookie needs to commission a brand new special dress from an up-and-coming designer like Camilla? Fireworks would definitely be imminent.
Cookie is so protective of her children that it's not likely that she'll approve of Camilla right away. Camilla seems just as headstrong as Cookie. Watching these two go head to head in a plotline would be magical.
Camilla & Tiana
Tiana is a pop star on the rise who will be needing to make fashion statements on the red carpet. Imagine if she had to work together with Camilla and wear one of the Brit's designs — how amazingly awkward would that be? Even though Tiana and Hakeem seem to have an understanding, it doesn't mean it still wouldn't be weird for Tiana to be working with Hakeem's other girlfriend.
Camilla & Lucious
Like many industries, the entertainment community can seem very big, but everyone knows each other and really, it's kind of small. So it shouldn't be a shock if Camilla and Lucious have crossed paths before. Perhaps they had a romantic encounter years ago while he was in London on business. After all, he did tell Cookie that while she was in jail he was with a lot of women. Camilla could've been one of them.
It would be great to see Cookie and Hakeem's reaction to a reveal like that. For now, I hope we do get to see more of Camilla on Empire — and her learning about today's slang.
Images: Chuck Hodes/Fox (3); Giphy