Curiosity's Selfie Game Is On Point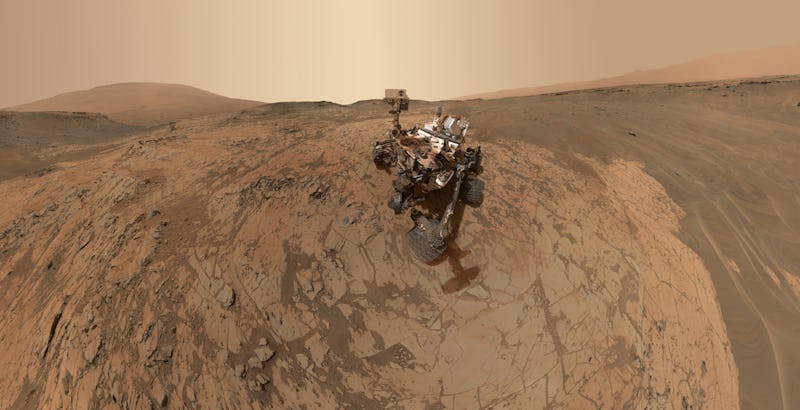 If only there was Instagram for robotic rovers in space. Curiosity is a car-sized rover exploring various sites on Mars and studying its climate and geology to determine whether the planet is suitable for life. In other words, it could pave the way for the future of post-Earth mankind, so it's kind of a big deal. And therefore, selfies are totally warranted. The latest NASA Curiosity selfie on Mars was taken from the Mojave site, where it's been drilling for rock samples. Upon first glance you might think, "Where's the selfie arm?" That's right — the rover's camera is able to put together a selfie without exposing its arm. Like I said, selfie game is strong.
The latest selfie shows Curiosity proudly posing at the Mojave site, where it drilled and collected the second sample of Mount Sharp for NASA's Mars Science Laboratory (MSL) mission. The pic was snapped by the rover's Mars Hand Lens Imager (MAHLI) camera, which is located at the end of its robotic arm, prepped and ready to take a selfie from anywhere. But the secret behind this revolutionary no-arm selfies is that the image is actually a seamless mosaic made up of dozens of images taken in January and spliced together to hide the arm. Clever, right? Humans should take note.
Here's an annotated version of the same pic that lists the various sites that Curiosity has examined.
Curiosity has been traipsing (OK, more like slowly rolling) around the red planet since August 2012, when it landed on Aeolis Palus in Mars's Gale Crater. Since then it's been exploring different sites within the crater and sending back data to NASA along with a selfie at each place, like that annoying friend who posts six beach selfies a day from vacation, which she seems to go on every other week. Honestly, where hasn't she been? Is that Pyongyang? At least Curiosity is doing something important, oh, like possibly saving the human race from extinction. So, we welcome your selfies any day, Curiosity.
Here are some other ones it's taken around Mars. Curiosity clearly knows its best angle.
"Beautiful day from the Windjana drilling site! About to do another drill sesh and get #swole. #SelfieSaturday."
"So exhausted from drilling all day at the John Klein drill site, but hey, at least it's another sunny day here on Mars. Not a cloud in the sky! Come to think of it, every day has been sunny! #Sky #MarsLife #ImARoverNotAFighter."
"Here I am at the Rocknest Wind Drift site, where I have a beautiful view of the sand, sand, and more sand. What do you think of this new mosaic look? I'm trying to start a trend. #SelfieKing #SandPorn #NoFilter."
Images: NASA