Will Emma Swan Go to the Dark Side in 'Once'?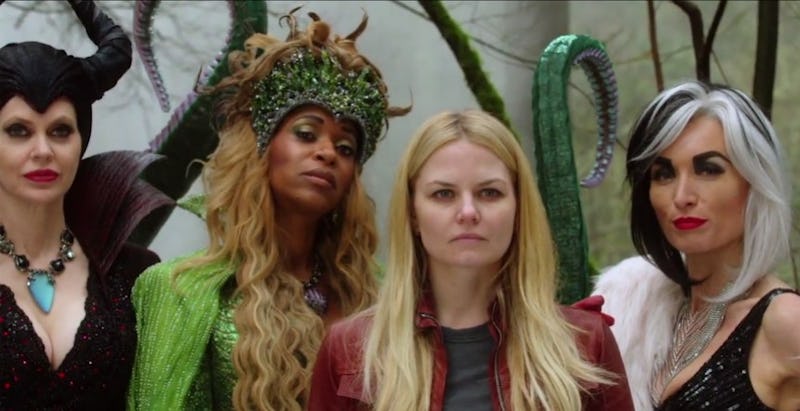 A lot happened when we left Storybrooke almost three months ago. Regina was pursuing her happy ending, Rumple lost his, and, once again, Emma Swan helped save the day. Since we said goodbye to the beloved (and incredibly well done) Frozen characters in OUAT's mid-season finale, the second half of the season is getting ready to heat up, and we have a new Once Upon a Time promo to enjoy before it starts! When Belle learned that Rumple hadn't really changed and made him walk the line (the Storybrooke border line, that is), she thought this would get rid of him forever, but little did she know that small push would change Rumple in a big way. Which brings us to the next part of this season — it's all about the villains!
Regina may have turned to the good side, but there are still a few bad apples in the bunch. Following Rumple's latest heartbreak, he is siding with the Queens of Darkness — Maleficent, Ursula, and Cruella de Vil — in a quest to get villains their happy ending. So what exactly does this mean for everyone back at Storybrooke? Well, a lot, according to ABC's latest promo, which features none other than Emma Swan. It looks as though the savior takes a bite of the forbidden fruit, joining forces with the Dark One himself. While we will just have to wait until Sunday to see it all unravel, in the meantime, here are some reasons why Emma going to the dark side actually makes sense.
But first, the promo—
She Has a Thing for Bad Guys
Graham, Neal, Hook — you never see Emma going after any princes. Her taste in men shows, she obviously has an attraction to the dark side.
She Has a Few Dark Roots
Snow White and Prince Charming put so much pressure on Emma to be good, but even they have dark pasts. Charming lied about his identity to an entire kingdom and Snow killed Regina's mom, Cora. The apple doesn't fall very far from the tree.
She Never Had a Choice
Since Emma's birth, her destiny was set in stone. But now that she finally has control of her magic, the power is in her hands. So, which path with she choose: hero or villain?
Images: ABC, lumadreamland/Tumblr, Giphy