Who Would Lizzie McGuire Be In 'Gossip Girl'?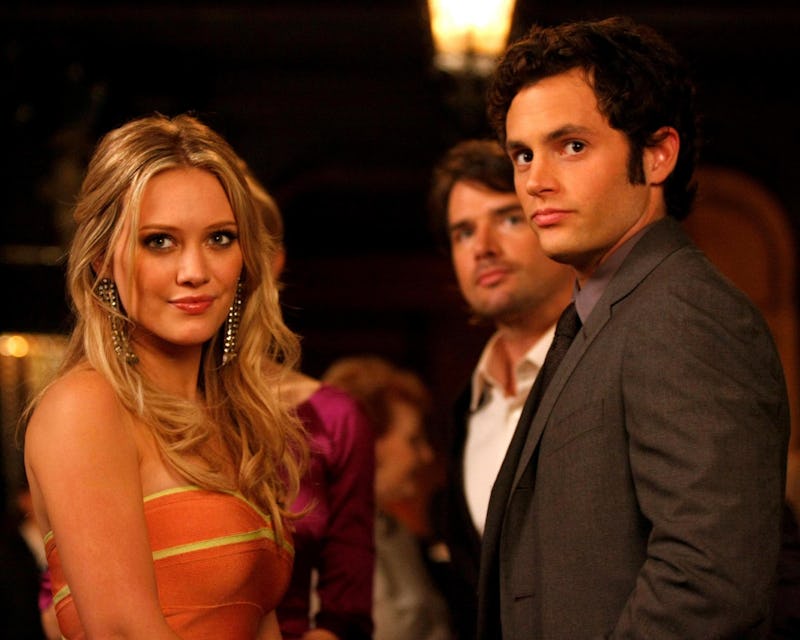 Remember when your favorite tween show actress, Hilary Duff, appeared in your favorite teen show as an actress? Well, imagine if those worlds got even more twisted. I'm talking about the classic Disney Channel show, Lizzie McGuire and the drama-filled CW series, Gossip Girl .
In the early '00s, we all adored the socially awkward, clumsy and totally relatable Disney character Lizzie McGuire. She had loving parents that were a little dorky, two of the best friends you could ever hope for and super cool outfits. Don't lie, you totally crimped your hair to look like hers for your grade school yearbook photo (or maybe that was just me). Either way, the show was a staple in your awkward tween years.
Fast forward about three years into your teens and you have the perfectly primped Serena van der Woodsen, who, similar to Lizzie, can never really seem to get her life together. The series quickly became your new obsession and soon you were trading your scrunchies for stylish headbands. The show was your new staple, but Lizzie McGuire still held a little piece of your childhood, which is why you totally lost your cool in season 3 when your tween idol Hilary Duff became a recurring guest star on the show.
Now in the present day, you're probably a little bummed because I just made you super nostalgic and neither of these shows are on the air anymore. Sure you can watch them on Netflix and YouTube, but reruns just aren't the same. As you reflect back on the good ole days of television, imagine what would happen if these two worlds converged. Who would Lizzie McGuire characters be in the world of Gossip Girl?
Kate Sanders — Serena van der Woodsen
As the top "it" girl, like Serena, Kate has the coolest clothes, the coolest group of friends and the coolest boyfriend. Everything seems perfect on the outside, but let it fool you, it's all superficial.
Claire Miller — Blair Waldorf
Not only is Claire the same name Dan used in his book Inside (minus the "e") these two are both the popular girl's right hand BFF. Even though their tight with their bestie, that doesn't stop them from squashing them any chance they get to be number one.
Ethan Craft — Nate Archibald
Kinda arrogant, but super attractive just screams Ethan and Nate. Ethan is also romantically linked with Kate (Serena) and crushed on by Claire (Blair).
Danny Kessler — Chuck Bass
Okay, so if you're a true Lizzie McGuire fanatic, you know in the pilot Danny was the original teen heartthrob way before Ethan Craft. His family even owns their own an amusement park. Swap that with hotel and you have the devilishly handsome, Chuck Bass.
Melina Bianco — Georgina Sparks
Who can stir up trouble more than these two? They put on a front for being sweet and innocent, but everyone knows you better not cross Melina or Georgina.
Matt McGuire — Eric van der Woodsen
A guy who tries to be conniving, but just doesn't really have what it takes.
Miranda Sanchez — Vanessa Abrams
If their crazy outfits didn't give it away, this seems like a pretty good fit. Just like Vanessa, Miranda is on the outside and for the most part she doesn't really care. She's more concerned with making sure her friends don't conform to peer pressure. She's also crushing on Ethan (Nate).
David "Gordo" Gordon — Dan Humphrey
Okay, so I really struggled with Gordo, but this seems like the right fit. Just trade a video camera for a computer and there you have it. Two guys that are always on the outside, but secretly want to fit in.
Lizzie McGuire — Ivy Dickens
Okay, so sadly, Lizzie isn't the main character in this mashup world, but just check out some of the similarities. Used to be besties with Kate (Serena), impersonated someone famous (um, remember The Lizzie McGuire Movie?), and was romantically linked with Ethan (Nate) and Gordo (Dan).
Images: Disney Channel, The CW