Dr. Herman Has Brought So Much To 'Grey's Anatomy'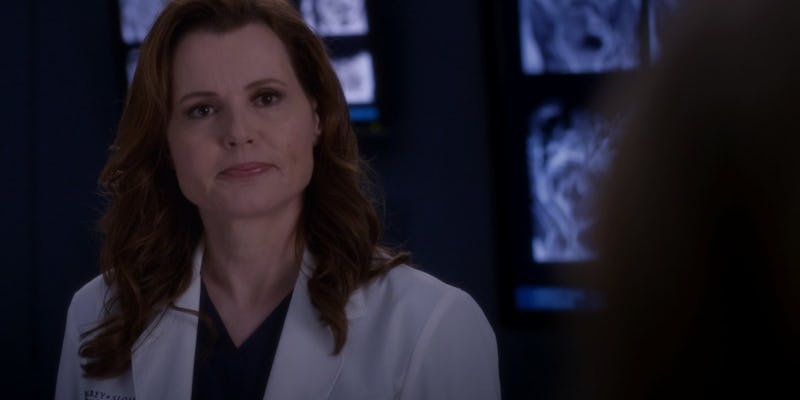 As if there wasn't already enough drama, on Thursday's Grey's Anatomy Dr. Nicole Herman went in for her major brain surgery, and things are looking dicey. Fans have known for a long time that Geena Davis' character's survival was slim to none. She has an inoperable brain tumor that only the gutsy Dr. Amelia Shepherd has dared to try to remove. But will Grey's Anatomy actually kill off Dr. Herman? Probably, but I do know that no matter what the outcome—she's made her mark on the hospital.
Thursday's episode was narrated by the national treasure that is Geena Davis, and it was all about how to leave an impression. It's a fitting topic for her character, who started out as harsh and hated, but is actually bringing out the best in everyone around her.
Bustle's Jefferson Grubs has already speculated that Dr. Herman may be what brings Callie and Arizona back together. Viewers saw a taste of that on Thursday when Callie got jealous of how close her ex-wife and Dr. Herman were. But then she went from jealous, to worried. It was clear she was concerned how Arizona would take it if Dr. Herman didn't make it through surgery. "I'm just checking in and seeing how you are," Callie told Arizona, in a rare moment of interaction between the two. "I worry about you."
Although it was just a spark of something between the pair, it made me hopeful maybe they can reconcile after all. But Dr. Herman's presence has done more than possibly reignite Calzona's love. She's also helped several of the hospital's doctors grow into their own.
Arizona started this season by losing her marriage, and her confidence. She's had to start from square one as a fellow for Dr. Herman, and has been pretty unsure of her skills all the while. But Thursday's episode proved that the Arizona we know and love is still in there. Dr. Herman forced her to take lead on a surgery to make up for the fact that Arizona had made Herman hope she could actually live. Arizona stepped up to the plate, and even invented a new way of approaching the surgery to get around an obstacle. It was classic Arizona, and so nice to see that Herman was able to encourage that side of her.
But Herman's surgery has also helped Amelia Shepherd step up to the plate. All her life she's had to play second fiddle to her brother Derek Shepherd and it was nice to see her get the respect she deserves from the medical community. She may not be Derek, but she's a great doctor in her own right, and I hope Herman's surgery is successful so she can prove that to the world. But even if Herman dies, I think the fact that Amelia was brave enough to take this on will stay with her and hopefully boost her confidence as she continues to work.
I don't want Herman to die because I love Geena Davis, and I love what her character has done to the hospital. But I think even if her surgery isn't successful, she's taught a lot of people important lessons, and that they won't soon forget her impact. As her character said at the end of Thursday's episode, "I wanted my existence to mean something ... [and] in order to be remembered, in order to leave something significant behind, you have to leave."
So yeah, it's looking like Dr. Herman might die, especially because the promo for next week's episode shows a very panicked Amelia Shepherd. But at the very least, the way Dr. Herman's touched the hospital and their staff will live on no matter what.
Image: ABC screengrab