Dr. Herman May Bring A Calzona Reunion On 'Grey's'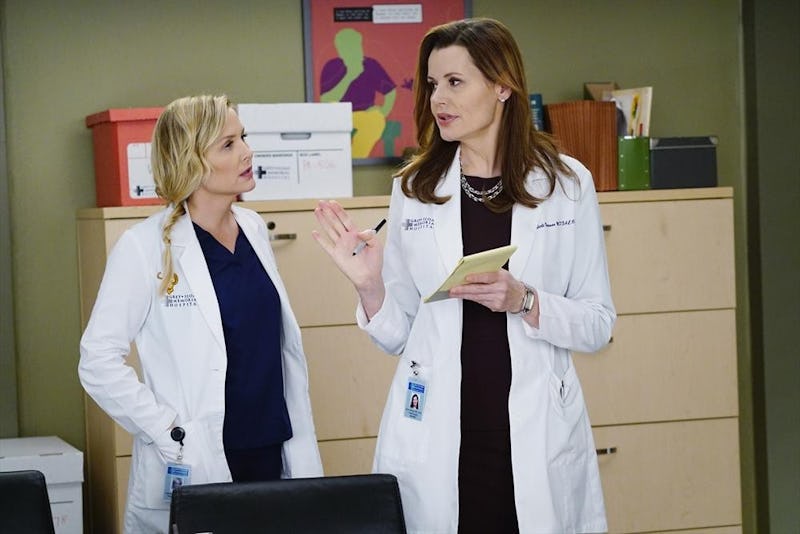 Man, Season 11 of Grey's Anatomy is just not being kind to its couples, is it? It makes sense; after more than a decade on the air, the writers probably feel the need to shake things up. But achieving that by creating strife in pretty much every major relationship on the show has been a little frustrating. Meredith and Derek are separated, with the latter having accepted the President's job offer in Washington, D.C.. Newlyweds April and Jackson just had a rough go of it, losing their baby to a horrific bone disease. Richard and Catherine are still on the outs after their near-proposal last season. Owen has been reeling ever since Cristina's departure (although things are looking promising between him and Amelia). All of this on top of the 'Grey's' divorce of Callie and Arizona... and it's a tough time to be a fan these days!
You know things are off when Alex Karev is in the most stable relationship on the show. Is there any sign of things getting back on track? With Patrick Dempsey's temporary absence from the show, Callie and Arizona — or Calzona, as they're affectionately referred to — are something of the show's central couple. So is there any reason to hope that they may get back together anytime soon?
Ever since their break-up in Season 11's fifth episode, creator Shonda Rhimes and the show's writers have stayed true to their promise to not constantly tease Calzona fans with the possibility of a reconciliation. "It's respectful to the fans that really want them to be together because they don't have to see them almost be together in every episode," Jessica Capshaw (who plays Arizona) told TVLine. "It hasn't held any sort of inauthenticity. If you break up with someone, you would want some space," she explained.
But there might be an end in sight for this separation. Maybe I'm reading too much into it, but Capshaw seemed to let something slip here: "The best thing the writers could have done, which is what they did for at least these next six episodes, is have [Arizona and Callie] just be on their own." The next six episodes? That interview was given during the show's midseason hiatus — What happens six episodes later? The sixth episode post-hiatus is Episode 14, "The Distance," airing on Thursday, March 5. According to an ABC press release, "Amelia engages in the surgery of a lifetime as a crowd of doctors look on from the gallery. With Stephanie by her side, she begins operating on Dr. Herman, but quickly realizes it's far more difficult than she anticipated."
According to Capshaw, Callie and Arizona will be apart for six episodes. At the end of those six episodes, Arizona's beloved mentor/friend Dr. Herman will be undergoing her risky surgery. Might the two events be linked? It's not difficult to imagine that Herman's surgery might not go too well — portrayer Geena Davis is only a guest star, and her contract with the show must be up soon either way. And from there, it's not much of a stretch to picture a grieving Arizona finding comfort in her ex-wife's arms.
Of course, this doesn't mean Calzona will be able to pick up right where they left off. Callie has enjoyed her single life, flirting with cute sales representatives and dancing with men in bars. And if the couple did decide to get back together, they would have a lot of work to do to fix their problems. But at least there's hope that the gulf between them could soon be growing smaller.
Images: Richard Cartwright (2), Ron Tom/ABC