14 Best Celebrity Halloween Costumes From Heidi Klum, Lucy Hale, and More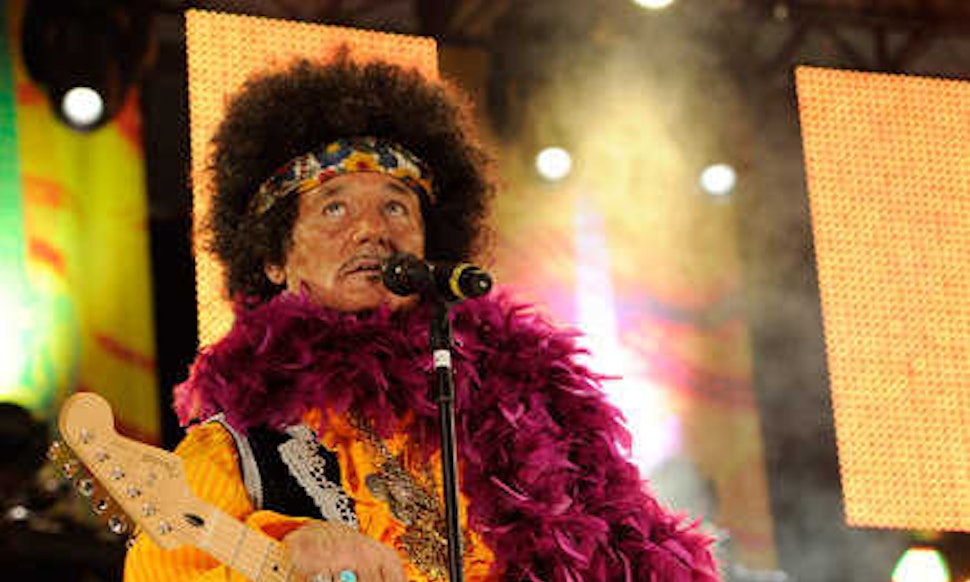 Every Halloween, there's that point (usually on Oct. 30th) when you realize that, gosh darn it, you've left your costume to the very last minute again. And you are filled to the brim with disgust because goddammit, you really wanted to be the one with the awesome costume this year, and how the hell are you going to come up with something brilliant and pithy? Well, look to the stars people: They have money and wonderful creative teams. (Now, if only you had more than one day to throw these together.) Here's a sampling of the best of celebrity Halloween get-ups, so put on your thinking cap and get inspired. (And if these seem to hard, you can simply resort to our last-minute Halloween costume ideas.)
Best Celebrity Halloween Costumes To Copy
Every Halloween, there's that point (usually on Oct. 30th) when you realize that, gosh darn it, you've left your costume to the very last minute again. And you are filled to the brim with disgust because goddammit, you really wanted to be the one with the awesome costume this year, and how the hell are you going to come up with something brilliant and pithy? Well, look to the stars people: They have money and wonderful creative teams. (Now, if only you had more than one day to throw these together.) Here's a sampling of the best of celebrity Halloween get-ups, so put on your thinking cap and get inspired. (And if these seem to hard, you can simply resort to our last-minute Halloween costume ideas.)
Sarah Hyland As Spinelli From 'Recess'
Ugh, this is such an awesome throwback costume. All she needs now is for her boyfriend Matt Prokop to be the Mrs. Finster to her Spinelli. That would just finish the look. The good news about this costume is that if you're a hipster, you're guaranteed to own all of these items anyway, so Spinelli is an easy choice.
Image Credit: Instagram
Katie Price As... Herself, Covered In iPods?
I want so badly to somehow make this costume, but I also have no idea what it's meant to be. Is it Katie Price dressing up as herself? Is she the Princess of Apple? What exactly is the iPod crown about? I don't know, but I love it all.
Lucy Hale As Mackenzie From 'Toddlers and Tiaras'
This costume totally wouldn't be hard to throw together, because everyone has the pieces needed for a princess outfit on the go at all times too, right? Also, it gives you an excuse to call your bottle of wine your Ni-Ni and throw a massive temper tantrum if it goes missing. Whereeee'sss my Niii-Niiiiiiiii
Image Credit: Instagram
Helena Christensen As A Paint Palette
Again, this is a seriously cute (and girly) costume that you could get together in under five minutes. All it requires is busted-looking hair and something you don't mind splattering in paint. Oh and it wouldn't hurt if you're also completely stunning like Helena Christensen.
Image Credit: Pacific Coast News
Pete Wentz and A Friend As Ari and Uzi Tenenbaum
So not only would this be the most comfortable costume on the block, it also tells a story. It says, "I'm above wearing slutty cat costumes, but I'm thoughtful and I love Wes Anderson movies. I'm looking for quirky love without having to shave my legs or armpits for Halloween." And that's hot.
Image Credit: WENN
Victoria Justice As Abraham Lincoln
It takes a ballsy girl to dress as what I consider to be the sexiest U.S. president (JFK can eat my socks), but Victoria Justice pulls it off with panache. All ya need is some stick-on facial hair and a top hat, both of which should be readily available at a nearby costume shop. After that all you need to do is memorize the Gettysburg Address, which you shall then recite drunkenly at strangers en route to your night out. That's class.
Perez Hilton As Lady Gaga
I'm not sure if this is amazing because it's Perez Hilton dressed as Gaga, or because any man bold enough to wear that bob with such confidence would immediately win "Best Dressed" in my book. Lady Gaga costumes are sold in pretty much every costume shop ever so go ahead: Get one a size up and give it to a male friend. You won't regret it.
Image Credit: WireImage
Bette Midler As A Rose
Okay, the whole going-as-a-flower thing has been done before, but this costume is just so pretty. This is a world away from the look-I've-attached-painted-cardbord-around-my-head-I'm-a-daffodil bullshit in the best way possible.
Image Credit: Bauer-Griffin
David Spade And Sarah Silverman As The Human Centipede
This is both deeply disturbing and so funny that my brain is exploding. If you haven't watched The Human Centipede, save yourself the emotional trauma and don't, but if you already have... well, then you know that you have to laugh at a costume like this, or you're going to cry.
Image: Yfrog
Heidi Klum As Kali
This will win best costume every single year for me, no matter what she does this Halloween (and Heidi Klum is seriously good at Halloween). But I don't personally advise copying this one. I went as Krishna two years ago, and all I got from it was being mistaken for a Na'Vi all night and blue body paint in weird places for the rest of the week. No thanks.
Image Credit: FilmMagic
Katie Couric As Donald Trump
Again, this is a costume I could seriously get into, because it's funny (versus sexy). Also, that face she's pulling is so perfectly Donald Trump. That creepy impersonator behind her, though... just no.
Image Credit: Retna Digital
Ann Curry As Cher
Ann Curry might be a brief memory from earlier times on Today, but this costume was funny because it was not only shocking, but also because it was Cher, and Cher is always amazing. Also, if you have anything black that you're willing to ruin in your wardrobe, just cover it in sequins and do drag makeup under your cheekbones and you're pretty much there.
Heidi Klum AGAIN As... Muscles?
Ugh, it should be a crime to be this good at Halloween. Klum is managing to simultaneously show off her hot bod while not going for an overtly sexy look, which is a tough line to toe. So impressed.
Image Credit: FilmMagic
Zachary Quinto As Fireworks
Any costume that justifies a sparkly beret is a winner, but this is just damn cute and original, a tough combo to come by. Oh Zachary Quinto, of course he would have the sassiest costume.
Image Credit: Twitter