Taco Bell Debuts Cap'n Crunch Donut Holes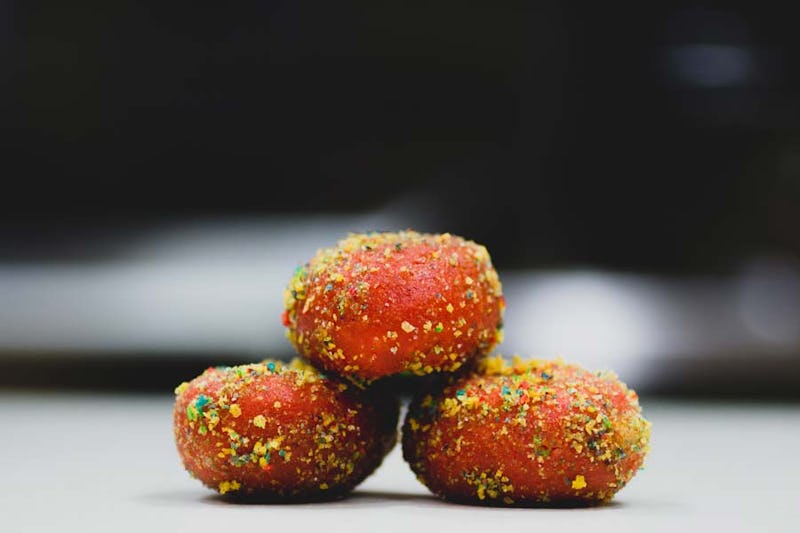 If you thought that KFC's edible coffee cups were incredible, you're in for a real treat (literally). On Thursday, FoodBeast's Peter Pham reported that fast food giant Taco Bell had released new Cap'n Crunch Donut Holes and everyone got really excited, really fast. The recent announcement was also hinted at on the company's official Instagram page, prompting legions of nostalgic sugar cereal fans to collectively swoon.
The donut holes, named Cap'n Crunch Delights, are made with Cap'n Crunch Berries cereal and contain a milk-icing center that pretty much assures the sweet concoction will give you a sugar rush with which no regular donut can compete. The Delights are currently being marketed on the restaurant chain's dessert menu — but seriously, no one would judge you for eating them at breakfast. According to the FoodBeast report, the sweets will be sold in sets of two for $1 or a dozen for $4.99. Pham describes them as "pretty much fast food cereal" — which sounds excellent.
The deep-friend donut holes already have their own cult-following as well: after the company released its first official photo on Friday, it racked up over 20,000 upvotes in a matter of hours, presumably from fans of the original cereal-that-no-one's-mom-ever-let-them-have-for-breakfast.
News spread quickly and prompted the viral hashtag #CapnCrunchDelights on Twitter as well, with supporters praising the bizarre pairing and mystified critics panning it as "disgusting":
The Cap'n Crunch Delights are just the latest bizarre creation out of a national fast food eatery: back in July 2013, hamburger chain Carl's Jr. and sister brand Hardee's debuted a Pop-Tart ice cream sandwich tasty enough to make the most discerning of school-aged diners hyperventilate as well.
With the debut of the Taco Bell Delights and KFC's edible "Scoffee" cups, it seems that the trend of sweetening up America's favorite foods isn't going away anytime soon. According to a report by the Associated Press on Friday, it's the fast food market's way of warming up the "hipster" generation with nostalgia-inducing favorites to raise sales where traditional menu items just can't compete.
Currently, the donut holes are only being served at Bakersfield, Calif. locations. Until the company announces a nationwide release, fans of the berry-flavored cereal will just have to get their sugar fix the good old fashioned way — with a spoon.
Images: Peter Pham/FoodBeast; Carl's Jr.