7 Hairstyles For Working Out & Running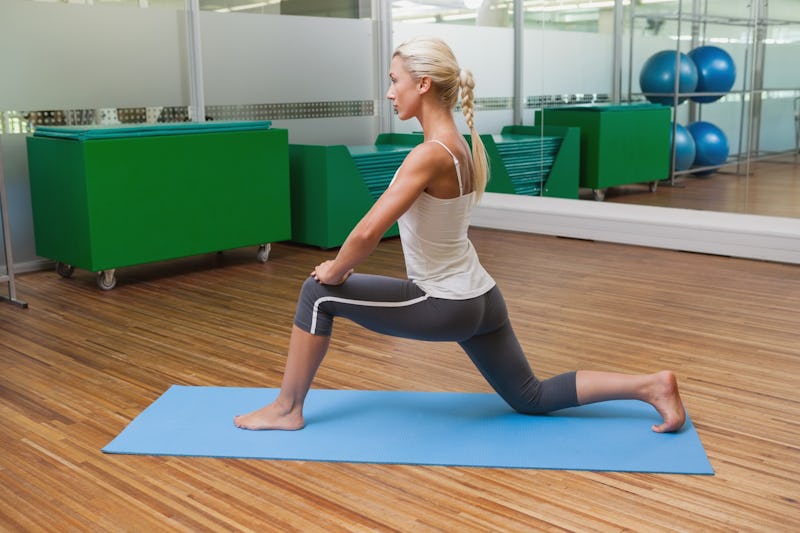 Picture this: You're in the middle of a prime workout. You've already run two miles, and you're on the home stretch before you can cool down. But there's one problem. Your hair keeps getting in your face, strands keep coming undone (which of course, makes you stop to fix them), and you can only imagine how crazy you look. We've all been there, and we all know how annoying it is to worry about your hair when you're perfecting your stride. So, what do you need? The perfect hairstyle for working out.
Whether you want to admit it or not, coming up with a hairstyle that's both efficient and cute is a real thing. And as much as I want to say that I don't care about how I look when I'm at the gym, I can't because that would be a lie. Back in my serious gym days, I could never find a hairstyle that worked for my short bob-styled do. Ponytails didn't take care of the shorter strands and headbands just left massive bumps in my hair. Neither of which would suffice because I wasn't ever trying to redo my hair, completely.
So here's a list of 7 of the best hairstyles for your workout or run. What's more is that these braids and updos will leave your hair wavy and ready for a night out (just add a little dry shampoo and you're good to go!). Test them out and let us know which is your favorite.
1. Milk Maid Braid
This is a way chicer braid than I'm used to sporting at the gym, but it's totally effective in keeping your hair away from your face. Would you try?
2. Side Fishtail
If you can manage a fish tail (I can't), then this a great look. Because it's more intricate than a regular braid, any extra fly-aways won't look out of place.
3. One-Sided Braided Pony
The braid on this pony is more like a twist. It keeps your bangs out of your sweaty face and adds a little fun.
4. Loose Bun with Back Braid
Again, I find myself realizing how much braid practice I need. This one is cool because when you start sweating behind your neck, your hair is braided up and won't stick to you.
5. Short Hair French Braid
It's hard to do french braids when your hair doesn't pass your shoulders, but that doesn't mean you can't use this helpful hairstyle. Try this french braid style that uses little twists for the ends.
6. Pony with a Twist
If you're pressed for time, this look is quick and easy. The pony does what it does best (keep that hair up), while the twists manage the shorter strands.
7. French Braid Into Top Knot
This style is like the loose bun with the braided back, but it's a little more pulled together. You won't need a headband or anything with this look.
Images: Fotolia