Cap'n. Crunch. Donut. Holes.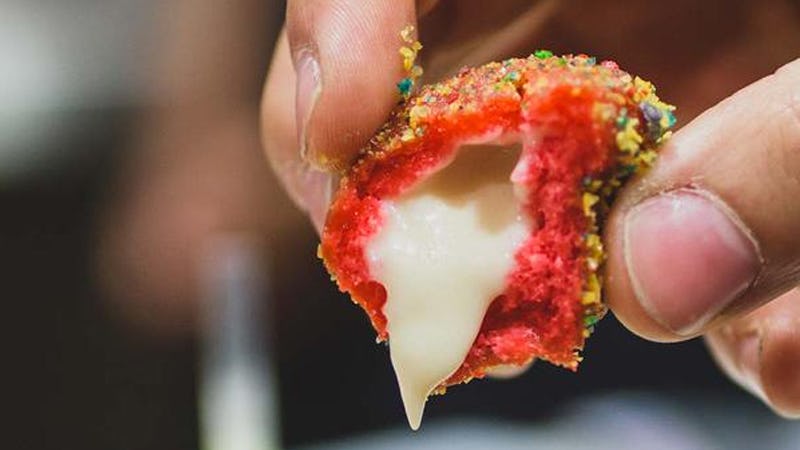 Back when Taco Bell launched its breakfast menu, complete with AM Crunchwraps with a hashbrown inside, I thought my wildest dreams had come true. But just when I thought Taco Bell's menu game couldn't get any stronger, they introduced Cap'n Crunch Donut Holes--fried donut holes filled with gooey milk icing (don't ask me what that means) and topped with crushed up Cap'n Crunch Berries. Somebody pinch me.
If you're a fan of Taco Bell's Cinnabon Delights, then you'll definitely like the Cap'n Crunch Donut Holes because they're essentially the same idea (fried pastry, sweet filling, some kind of dusting on the outside, you get the picture). Sadly, if you're about to run to Taco Bell, you might want to slow your roll because Taco Bell told the folks at Foodbeast that the donut holes are only in the test phase (sad). But you will be able to get them if you live in Bakersfield, California, where you can reportedly buy two for $1 or a dozen for $4.49. Is there anybody out there on the internet who lives in Bakersfield who would be willing to send me a dozen Cap'n Crunch Donut Holes? I will pay for the shipping! I might even send you a thank-you card.
I took to Twitter to reaffirm my excitement and prove that I'm not the only one who's pumped about this news. But before we get to everyone's reactions, first, a picture of the masterpiece itself so you can truly understand the gravity of what we're dealing with here:
Now, onto the Twitter users who are really shedding light on the important issues.
Plus countless people trying to guess how many calories are in these donut holes. Why are you trying to ruin a good thing? Don't you guys know you can't put a number value on bliss? Gosh!
Now let me die my slow, sugary death in peace.
Images: Foodbeast, Pay Chen, Jenna Kim Jones / Twitter; keola22 / Tumblr