What's The Deal With This Giant Clitoris?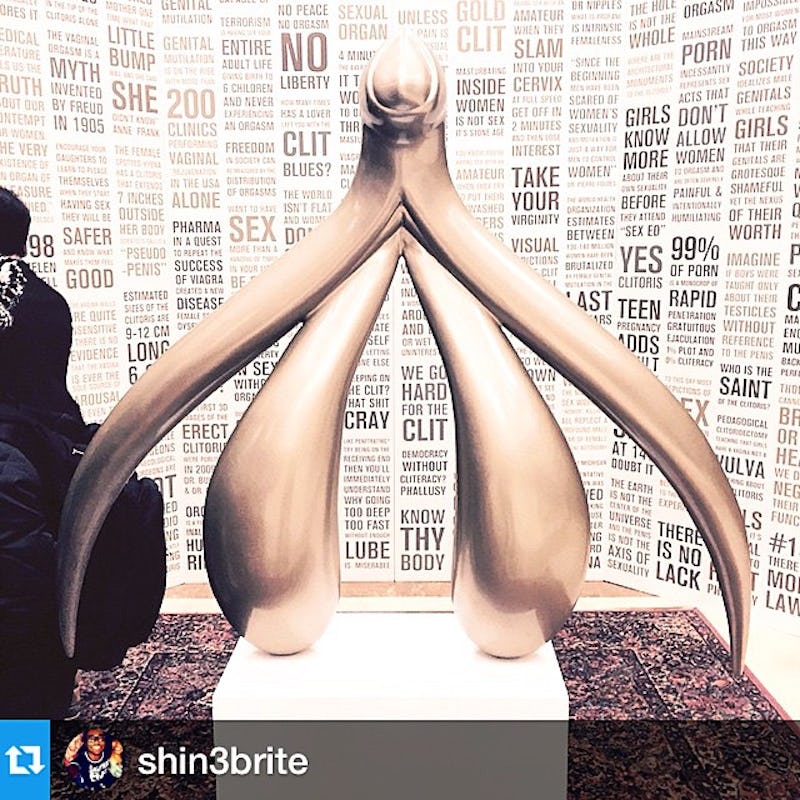 Here's something you don't see every day (literally): a giant golden clitoris statue is on display at the University of the South's library. No, this isn't like an abstract statue that kind of looks like a clitoris (like, for example, Qatar's vagina stadium) — it's a very intentional clitoris statue by artist Sophia Wallace for her latest project, called CLITERACY. I'm stoked as hell just from reading that pun (I love puns, okay? I have a very evolved sense of humor), so you can imagine how excited I am about the project in general. Spoiler alert: it's amazing.
But let's not get ahead of ourselves...or rather, myself. Who is Sophia Wallace, and what is CLITERACY? Glad you asked. Wallace is an artist based in New York City. According to her website, CLITERACY is a "mixed media project that explores a paradox: the global obsession with sexualizing female bodies in a world that is illiterate when it comes to female sexuality." In other words, even though the sexualization of women's bodies is so prevalent in our culture, we don't really know a whole lot about the female body, period--like how scientifically, Wallace says, the clitoris wasn't even discovered until 1998. Hold up. What?
Short version: while scientists previously thought the clitoris was a "little button" between a woman's legs, in 1998 urologist Helen O'Connell proved in a study that the clitoris actually extends deep into the body, and could be as long as 9 centimeters.
If you are learning that for the first time, don't be embarrassed--you're not alone (yeah, okay, I'll admit I didn't know that before. How is that even possible? I took sex education throughout middle and high school!). How could my education have failed me so hard?!
As shameful as my own ignorance is, it perfectly demonstrates why we need projects like CLITERACY. In the exhibit, surrounding the clitoris sculpture are what Wallace calls "100 Natural Laws": basically, a mix of pithy statements and scientific facts about the clitoris, including everything from "The world isn't flat and women don't orgasm from their vaginas" to "Wetness an imperfect indicator a woman can be aroused and dry or wet and uninterested."
Okay, this project is pretty amazing. Unfortunately, not everybody agrees with me, and there's been some controversy at Sewanee from people who think the exhibit is either inappropriate, unnecessary, or a combination of other things.
While I ponder what exactly "clit propoganda" is (is it anything that spreads the "myth" of the female orgasm?), there are plenty of people who support and understand the importance of the exhibit, so don't despair! As one Yik Yak user (are they called Yik Yakkers?) explained, "I've been faking my orgasms for two years because my partner does not understand the clitoris, doesn't take direction, and gets very hurt when I tell him something isn't working for me." See, people? Maybe we all need a little cliteracy in our lives. But it's not only women who are behind the CLITERACY movement. I'll leave you with this little nugget of faith-restoring awesomeness:
PREACH.
Images: Sophia Wallace/Tumblr (3); Giphy (3)