Kid Rock Vs. The Beyhive (And Emoji Bumblebees)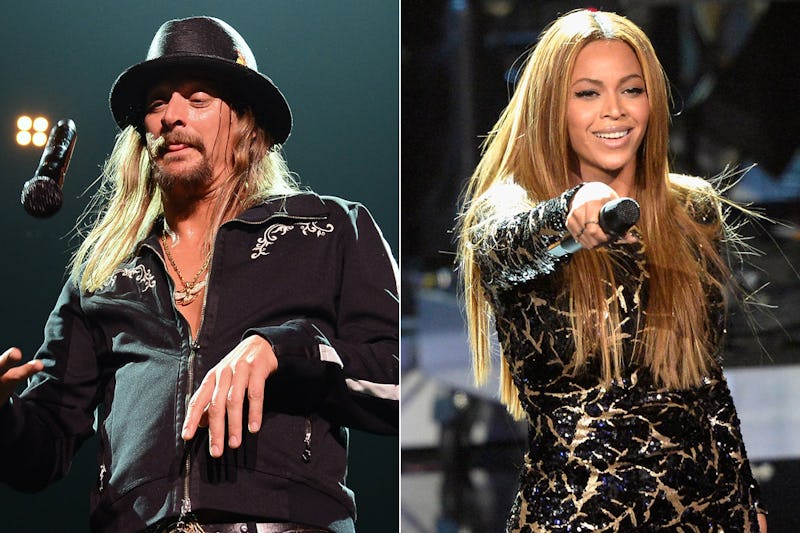 The Beyhive is a-buzz with fury at Kid Rock in light of a slew of offensive comments he made about Beyoncé in an interview with Rolling Stone. Kid Rock questioned Beyoncé's fame and implied that she didn't deserve the widespread praise and recognition that she has received over the course of her career. Rock even went so far as to say he is "flabbergasted" by the attention she receives (someone has clearly never seen her perform before).
Rock, poignant as ever, said of Beyoncé:
Beyoncé, to me, doesn't have a f****g "Purple Rain," but she's the biggest thing on Earth. How can you be that big without at least one "Sweet Home Alabama" or "Old Time Rock & Roll"? People are like, "Beyoncé's hot. Got a nice f****g a**." I'm like, "Cool, I like skinny white chicks with big t**s." Doesn't really f*****g do much for me.
Kid Rock's quote has spread across the Internet like a forest fire in a drought and Beyoncé fans are enraged, to put it mildly. The backlash in defense of Beyoncé has taken place largely on Twitter. However, there has also been quite the response on Kid Rock's Instagram page. In the ultimate revenge, the Beyhive, using their guerilla Emoji warfare tactics, has been spamming Kid Rock's Instagram with Emoji bumblebees in the comments. Like, thousands of Emoji bees.
Kid Rock's interview is undoubtedly problematic for a number of reasons, but that is another article in and of itself. Rather than get into the details of that, instead I will merely share with you the delightful fury felt 'round Kid Rock's social media accounts as his inflammatory words were felt even in the outermost reaches of the Beyhive.
Also, just LOL at Kid Rock trash talking Beyoncé for not having big enough hits. Like, you do know this woman has won 20 Grammy awards (and been nominated for 52), right, Kid Rock? Do your homework, cowboy.
Here are some pictures of the Instagram carnage:
As MTV.com notes, Kid Rock has 40,000+ comments on his latest posts (most of which are, you guessed it, Emoji bees), despite having only 17,900 followers as of earlier this week. The Beyhive isn't just keeping their reign of terror exclusive to his newer pictures, either.
As Defamer for Gawker pointed out, the Emoji bees can be found on Kid Rock's pictures dating back to 98 weeks ago. That is some dedicated bumblebee revenge. Kid Rock, like Taylor Swift, had to learn the hard way that messing with Beyoncé enthusiasts is the most dangerous game of all.
Pictures: Ethan Miller, Kevork Djansezian/Getty Images; kidrock/Instagram