8 Female Protagonists Fine With Singledom On V-Day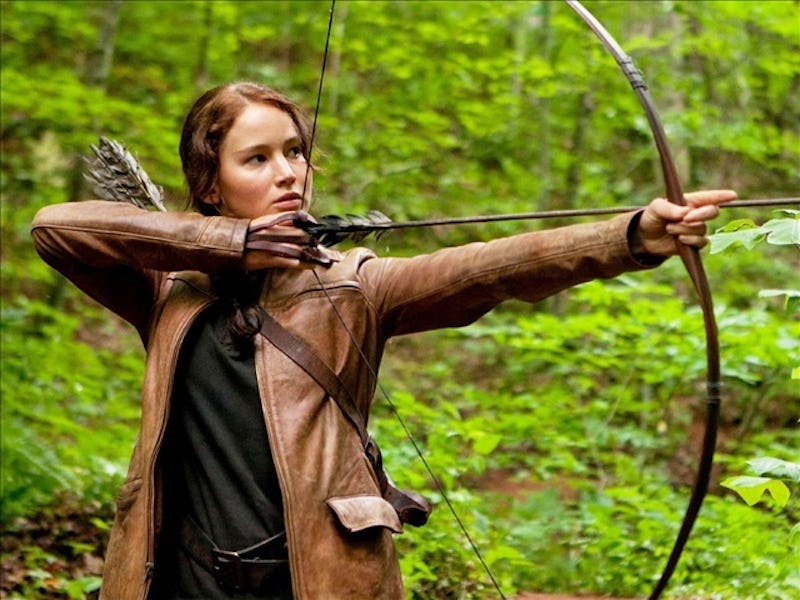 Valentine's Day can suck if you don't have a plus-one to share it with (full disclosure — I think Valentine's Day is ridiculous even with a plus-one), so no one's going to judge if you want to see February 14 through with as little fanfare as possible.
And really, an excuse to escape a lackluster prix-fixe meal in preference of a quiet evening at home sounds like a more favorable option any day of the year. Avoid the telly unless you're in the mood for a Hugh Grant movie marathon, and head straight to the only partner a girl could ever really need — her bookshelf. Then put on your comfy pants, cuddle up with the box of chocolates you bought yourself, so you know there won't be any weird fake cherry flavor in there, and crack open a good read.
But it is V-Day time, so choose your read carefully. This is not a day for sappy love stories that make you cry. You need a sassy protagonist who's willing to shout her single awesome-ness from the rooftops, and not jump off of it because she's been jilted. You need a protagonist like these eight women — someone who's more Katniss than Karenina; more Jo than Juliette.
And you'll definitely need a second box of those chocolates.
Idgie, Fried Green Tomatoes at the Whistle Stop Café
Idgie will not put up with your sh*t, so don't even try. She will not put up with racists, bullies, preachers, teachers, mean girls, mean boys, or any of the typical conventions a young woman in the South during the dirty thirties is expected to put up with. What she will do is compel you to put on a pair of overalls, run somebody over with a truck, and kiss your BFF on the lips. Hard.
Katniss Everdeen, The Hunger Games Trilogy
True story: I am good at archery, and when we are shooting at targets on hay bales, I pretend that I am shooting at jabberjays and that my name is Kareniss Evergreen. Nobody ever wants to play along with me, but whatev. Without resorting to cliché, Katniss has managed to remind readers that girls can save themselves, though it's not always easy, and it's not always fun.
Bridget Jones, Bridget Jones Trilogy
Bridget Jones deserves a place on a list of greatest single protagonists just for coming up with the phrase, "smug marrieds," but we love her because she smokes too much, she drinks too much, she (thinks she) weighs too much and she dressed up like a Playboy bunny to attend a garden party. It's not even necessary to pretend that we love Bridget in an ironic way. She's just awesome, full stop.
Hermione Granger, The Harry Potter Series
If I were Hermione Granger, I would have cast a spell on all the stupid boys I had to put up with on a daily basis at Hogwarts, and turned them into frogs. Or cabana boys. But really, Hermione rocks because she is the most wizardingly wizard that ever wizarded and neither puts up with nor is intimidated by all the stupid boy stuff. (Though I do question the eventual Granger/Weasley hook-up.)
Stella Payne, How Stella Got Her Groove Back
It's sometimes hard to totally root for Terry McMillan's protagonist, but in the end, Stella wins me over with her ability to finally get over herself and just have fun. I hope all of my consciously uncoupled friends heads to a tropical island and finds such a delicious way to get their groove back. Also, I hope somebody invites me to come with them.
Anne Shirley, The Anne of Green Gables Series
Yes, she married Gilbert in the end, but first she busted a slate over his head, vindicating Gingers the world over. Anne-with-an-e was your first best friend, and your first best fictional feminist, unwilling to give up her independence, imagination, or professional prospects for a dude, despite the rural norms of the time.
Jo March, Little Women
Pragmatic and cynical, Jo March is kind of the anti-Anne Shirley, but I still think they would have enjoyed a raspberry cordial together. Jo knew the difference between being a team player and being a martyr, and she too was not willing to forgo her own ambitions out of fear of spinsterhood. She ended up with a dope professor who loved her for her mind, but she would have done just fine on her own in the long run as well.
Jean Brodie, The Prime of Miss Jean Brodie
I first read this book when I was in high school, and spent a good deal of time that year wishing I was one of Miss Jean Brodie's "crème de la crème." Whether she was eschewing the strict private school curriculum in favor of introducing her girls to art and love, or pursuing her highly unattainable, married co-worker, Jean Brodie's prime including doing exactly — and only — what she wanted to do, and teaching her students to do the same. Booyah.