'Real Housewives of Atlanta' Kenya & Pheadra Clash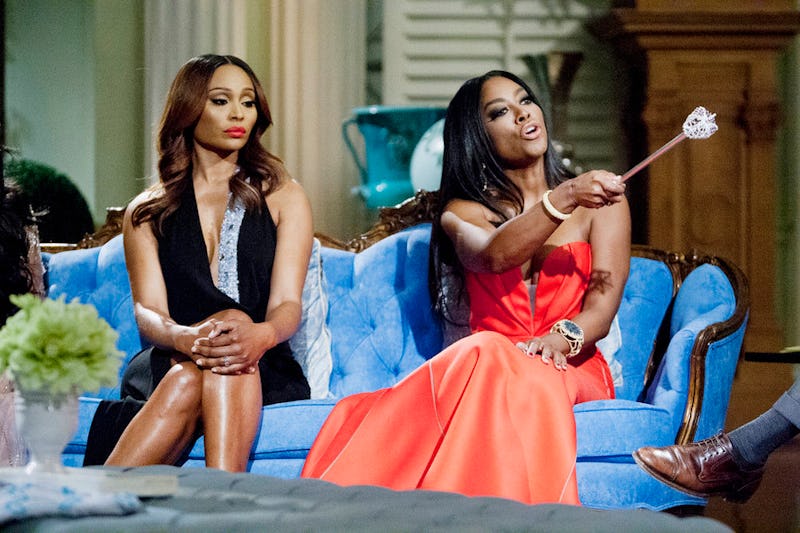 The Real Housewives of Atlanta picks up just after Pheadra Parks' husband, Apollo Nida, drove off to surrender himself to prison. The big question: did Pheadra cheat on Apollo with this mysterious African man, Mr. Chocolate? This already came up last week with Apollo's accusations during their huge fight.
Pheadra does seem pretty dispassionate for a woman who just lost her husband and the father of her children. But their marriage was obviously on the rocks for some time before his conviction, and it was tragic to hear about how their son, Ayden, is dealing with the news. Still no confirmation from Pheadra about Mr. Chocolate's identity.
But for some reason, Kenya Moore zeroed in on this situation with a righteous anger. I can see why Kenya is frustrated about being called all sorts of names by Pheadra over the course of the series, especially since there was no proof. But... Apollo admitted that he made up all of those things and lied to everyone — including Pheadra — about them.
Kenya does have the glow of self-righteousness right now: she's better dressed and younger looking than she's ever been. But her smug self-satisfaction doesn't make total sense. Obviously Apollo has lied about a woman's fidelity before... and last time, he convinced everyone that Kenya was the "big ass whore." By using text messages. Again, that doesn't mean that the Pheadra texts are either more or less true, but it does make Kenya more of a hypocrite. Until there's some proof, best to take your own advice:
If what she really wanted was to be progressive, she'd refrain from judgement. But from her newly prim personal style (and increasingly large earrings), to her haughty pronouncement that the rest of the ladies are "heathens," I think what Kenya's actually doing is... playing Pheadra. She's doing a stylized impression of her biggest enemy, right down to the booty obsession via a cringeworthy twerk dance scene. I guess we'll see if this ironically turns on her the same way it did on Pheadra.
Image: Wilford Harewood/Bravo; Giphy