Hakeem's 11 Best 'Empire' Moments So Far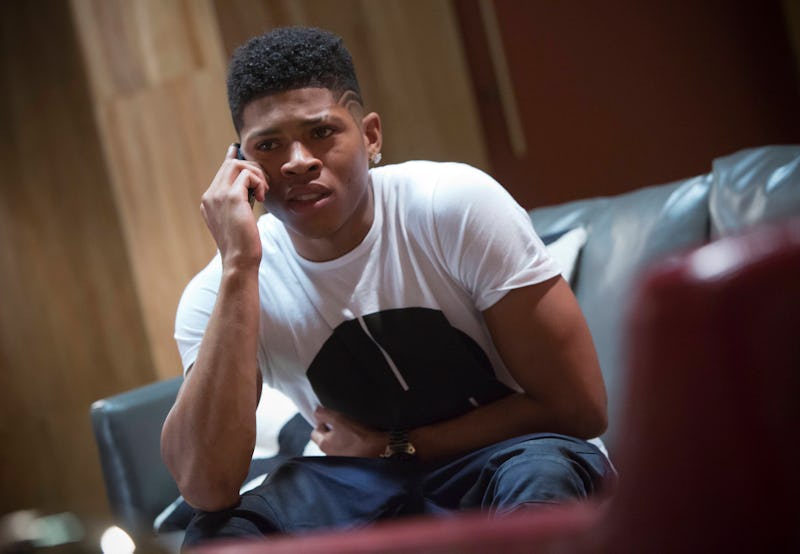 As an avid watcher of Fox's Empire, I can totally understand media mogul Lucious Lyon's heir apparent dilemma, because it's truly hard to pick a favorite among his three sons. There's the Ivy League-educated eldest and secretly bipolar Andre. Middle son Jamal is gay and just came out to the public last week, much to the chagrin of Lucious. And then there's Hakeem, the reckless rapper and loudmouthed youngest Lyon, who is Lucious' favorite. Played by Bryshere Gray (aka Yazz the Greatest) on Empire, Hakeem was too young to really remember his mother Cookie before she went off to prison for most of his life, but even so, he has grown up into a very entertaining young man.
We've already seen Hakeem's big mouth get him into trouble (dissing President Obama no less), juggling two loves (Camilla and Tiana), shooting a pretty dope looking music video for hit single "Drip Drop" and so much more. Even with just three more episodes left (including Wednesday night's episode), the youngest Lyon has already given us so much joy on our screen. One question remains: Will he put out a better album than his older brother Jamal? We shall see. But he's already won the prize of being the most entertaining of the Lyon family.
Here are Hakeem's 11 best moments on Empire so far.
1. When Hakeem Expected Andre to Hold His Cup
...And Andre was like, "No thanks."
2. When He Was Flirting With Tiana
3. When He Was A Bigshot Shooting The "Drip Drop" Video
4. When Hakeem Talks A Big Game
5. When Baby Hakeem Appeared In A Flashback
Awww.
6. When Hakeem Called Camilla "Momma"
Um, OK.
7. And When He Taught Camilla A New Word
8. When Cookie Showed Hakeem Some Love
And he's not-so-crazy about it.
9. ...And When Hakeem Actually Showed Some Love Back
10. Whenever Hakeem & Jamal Perform Together
11. And When The Lyons Stick Together As a Family
Images: Chuck Hodes/Fox; Giphy (16)