'Empire's Hakeem & Yazz Are Musically Different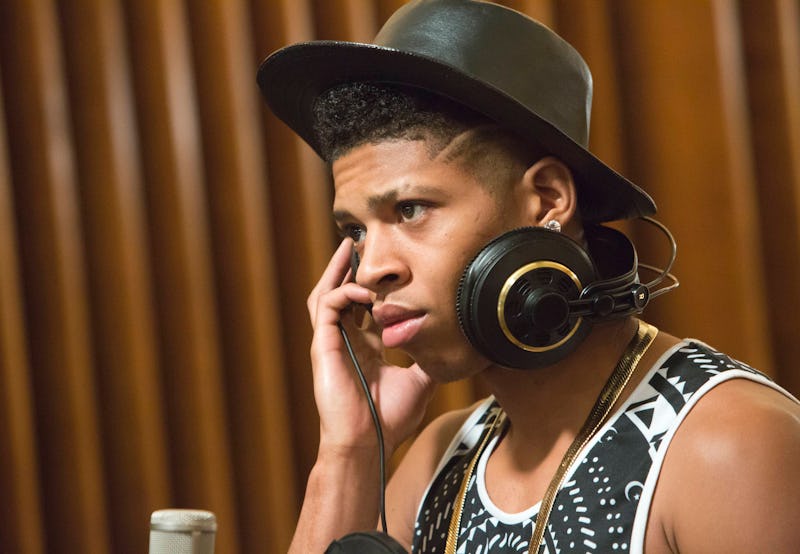 Actor Bryshere Gray has been playing two very big roles lately. The first is his acting breakthrough in Fox's smash hit show Empire , in which he plays Hakeem, the reckless and spoiled youngest son of the Lyon clan. The second role is as Yazz the Greatest, Gray's real life rap identity that actually pre-dates Empire and his acting career by at least five years. The 21-year-old Gray started rapping at age 16 while he was working at — get this — a Pizza Hut in his hometown of Philadelphia. While Gray and Hakeem may share a hometown, Gray told Vibe that the similarities between him and Hakeem stop there.
"I see similarities music-wise," the actor/rapper told Vibe. "There's really no other similarity because Hakeem is so disrespectful, ruthless and spoiled. I'm the complete opposite. I'm a sweetheart." While Hakeem was born with a silver spoon in his mouth, Gray used his first check from his Pizza Hut job to pay for his first music video. "I was writing raps at my job and I got fired," he said. "After I got fired, I just really committed to it."
His commitment earned Yazz the Greatest representation by manager Charlie Mack, who is tight with another Philly rapper/actor: Will Smith, who has since began mentoring Gray. "He introduced us two and from there, we've developed a great relationship," Gray told XXL Magazine. He put me under his wing and just gave me great advice."
If the similarities end with their music, let's compare Yazz and Hakeem's singles, music videos, and more.
Hakeem's "Drip Drop"
Within minutes of the debut of "Drip Drop" a few weeks ago, the song was trending and landed on the iTunes charts. This earworm penned by Empire's in-house music producer Timbaland is so catchy you'll be singing it to yourself all day. The track is meant to be Hakeem and his girlfriend Tiana's first single — as a couple and for Hakeem's upcoming album.
The video itself is just as outrageous as the song, with actual drip-drops raining down on set as Hakeem lies in a glamorous bed draped by gorgeous ladies. He lives a hard life, doesn't he?
Yazz The Greatest's "Homework"
Through the indie label Raw Life, Yazz released a number of singles and music videos on YouTube. One is "Homework" (above), which is Gray's 2012 low-budget musings while walking in the woods, sitting in trees, and riding a bike after he finds that his fancy car won't start. "Stop hatin' / Do your homework," he raps. As Yazz the Greatest, Gray writes all his own music and lyrics.
Yazz The Greatest vs. Hakeem: The First Album
There is one thing Hakeem and Yazz the Greatest's albums will have in common — both will be produced by Timbaland. "Timbaland has full control of the music [on Empire] because the character is not who Yazz is," Gray told XXL. "I bring the voice, I bring style and swag to it. I let Timbaland do his thing." Gray also revealed to Philly.com that Timbaland will be producing his first album as Yazz.
But which one will be better? It's a tough call, and I'm already excited to listen to both.
Image: Chuck Hodes/FOX