'Downton Abbey' Is Losing A Huge Star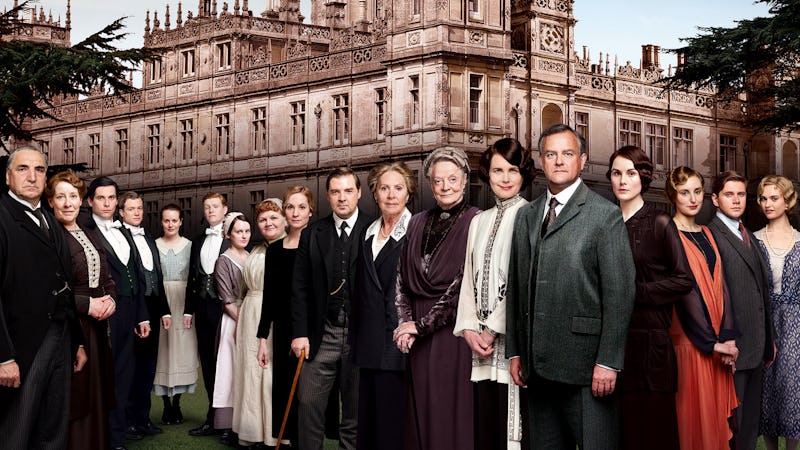 U.S. citizens are still recovering from Downton Abbey 's epic Season 5, but it appears that the season finale isn't the only thing that they'll have to recover from. Apparently, while looking ahead to Season 6, fans of the show will also be filled with a rising dread for the finale of that season. Not because of anything that might occur within the plot, any twists and turns or betrayals or deaths on screen, but because of what will be going on behind the camera. Apparently, Maggie Smith will leave Downtown Abbey after Season 6, taking the whip-smart Dowager Countess of Grantham with her. Let the hand-holding and Kleenex sharing commence, because this must come as such a huge blow to Downton Abbey's considerable fandom across both sides of the ocean.
Of course, I have always been biased in the favor of Dame Maggie Smith, who we all know portrayed the strict but noble Professor Minerva McGonagall in the Harry Potter film series. That's why I sympathize so heavily with fans of the Dowager Countess of Grantham; I mean, if someone told me that Professor McGonagall was going to exit the Harry Potter films before they were complete, I probably would have pitched a fit. It's not like changing Dumbledore, you guys. McGonagall doesn't have a huge beard to hide her new face behind. And Dame Maggie Smith is irreplaceable.
However, fans can be reassured (uh, maybe) by the fact that the series might in fact come to an end with her departure. According to an interview Smith did with The Sunday Times, "They say this is the last [season], and I can't see how it could go on. I mean, I certainly can't keep going. To my knowledge, I must be 110 by now. We're into the late 1920s." However, whether or not the show is ending after Season 6, any continuation thereof will be very much lacking in the Dowager Countess of Grantham. Ouch.
Smith will, of course, continue to have a lucrative acting career even after she and the show part ways. She has recently finished production on The Lady in the Van and likely has a huge amount of scripts constantly flowing in for a woman of her acting calibre. This might be the last we see of the Dowager Countess, but it certainly won't be the last we see of Smith. And that's more reassuring than anything else.
Image: Rebloggy