The Mysterious Murder of Mr. Green on 'Downton'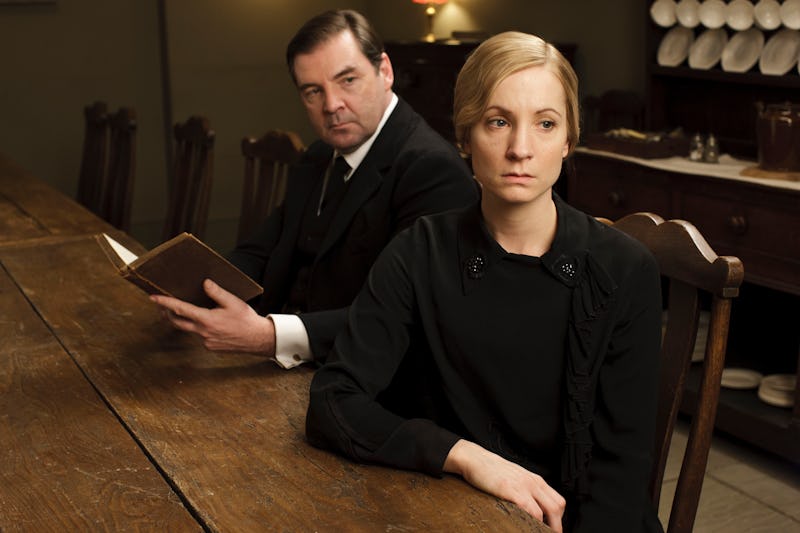 The Downton Abbey Season 5 finale episode acted like the greatest hits of the season with drama, humor, scandal, and intrigue. And although there was a happy ending just in time for Christmas with Bates returning to Downton and being reunited with Anna, we still don't know who killed Mr. Green. Anna is the police's number one suspect, but I just don't believe she could have killed her rapist (although I wouldn't completely blame her). And Bates proved his innocence when he revealed that his train ticket to London had been unripped — and thus, he had been in York when Green died in London. So who actually killed Green? Is it even someone we've seen on Downton Abbey before?
Anna was arrested and sent to jail in episode 8 of Season 5 for the murder of Green. And the thought did cross my mind that maybe, just maybe, Anna really had been the one to push Green out in front of London traffic. But all of her actions up until that point just didn't add up to her being a murderer. Anna's main concern with telling Bates about the horrific sexual assault was that she thought her husband (with a criminal past) would kill Green if he discovered it was him. And she actually seemed to believe (along with Mary, Mrs. Hughes, and me) that Bates had been the one to kill Green — until he told her about the unripped train ticket. If she had killed Green herself, would she really have been so concerned about Bates doing it? I don't think so.
But the Christmas special (it aired on the holiday in the U.K. — us Americans are getting sloppy seconds) did reveal that Anna has a darker past than we suspected. While in prison, she told Bates that the police had discovered something about her life before Downton that would help their case. Anna's stepfather had also sexually abused her (!!) and one night, knowing he was going to assault her again, she attacked him with a knife and cut him. Her mother and stepfather lied about the exact events to the police at that time, but her stepfather came forward with the information during the Green investigation.
Ugh, could my heart possibly break for Anna Bates more than it already has? Instead of being seen as the victim of sexual abuse that she is, she is now looked at as a woman with a history of attacking men. If I had any inklings that she killed Green, they were completely erased during her teary-eyed confession of her past to Bates. When Bates asked her if she had planned to kill her stepfather that night, she adamantly refused — and I believed her.
As for Bates, he could not bare to see his wife in prison, so he gave a false confession to the Green murder and fled Downton. Anna was released from jail, but that brought her no joy as Bates was a wanted man. Molesley (in a moment of not complete uselessness) decided to prove Bates's innocence by going around York and showing Bates's photo to all of the pubs in the town. (Bates was eating at one when Green died, but couldn't remember which pub.) Baxter and Molesley went to about 60-70 pubs on their days off interviewing landlords to prove Bates's alibi — and succeeded! Baxter and Molesley to the rescue!
But with Bates being proven innocent, Mary feared Anna would be arrested again (and Bates would not be happy about that). The family lawyer, Mr. Murray, assuaged that fear though. Lord Grantham told Cora that the witness who had identified Anna was having doubts and "the police know that their case will be shredded in court." He said "something else may turn up" (in Season 6, I'm sure), but for now, both Anna and Bates got to come home and continue to work at Downton.
Anna and Bates have earned a break, so someone else has to be found guilty of Green's murder in Season 6. Perhaps it was another one of Green's rape victims (the police mentioned that Anna's case was not an isolated incident and the person who allegedly pushed him was short). Some fans have the theory that Mr. Gillingham killed Green (he was his valet), but I don't understand what Gillingham's motive would be. Plus, Gillingham isn't short — or that bright (as Mary discovered in Season 5).
Maybe the witness who heard Green speak to someone was mistaken, and no one actually intentionally pushed Green. I can't imagine Downton Abbey not clearing up this mystery in Season 6, but I'm hoping that whoever pushed Green wasn't a female victim of his — she's had it hard enough without having to get convicted of his murder. And if a murderer is discovered, Anna and Bates will be allowed to move on with their lives — and perhaps start the loving and adorable family they deserve.
Images: Nick Briggs/Carnival Films 2013 for MASTERPIECE; herewestand/Tumblr (4)