'The Sound of Music' Is All About Feminism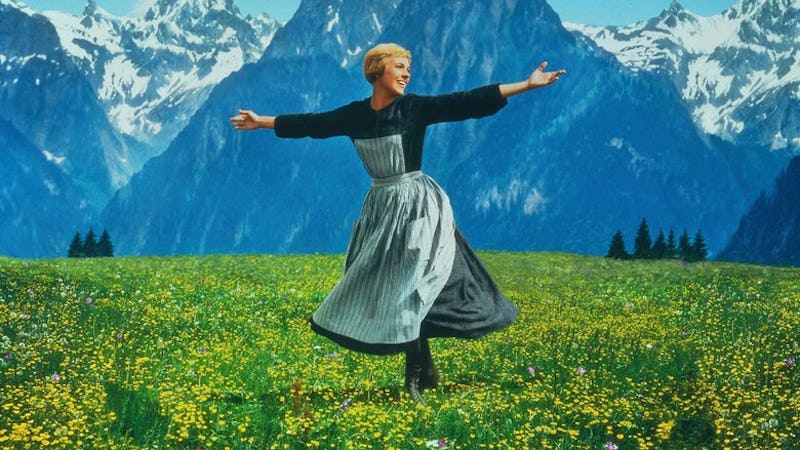 The hills are still alive with The Sound Of Music. Can you believe it's the 50th anniversary of The Sound of Music ? On March 2, 1965, the world was introduced to one of the most timeless movies starring the incomparable Julie Andrews and Christopher Plummer. From the music to the acting to the story, the film touched the lives of many and continues to do so today. Actually, the Oscar-winning movie is still very relevant for the 2015 world How? Well, it's filled with all kinds of feminist moments that show women in a positive light.
Some might find it hard to believe that a movie that takes place in the late 1930s and was released in the mid-'60 would contain feminist messages, but it does. Trust me, I would know, especially since I'm a huge fan who just watched it over the weekend for the umpteenth time.
For anyone who's seen The Sound of Music, then you know that Andrews plays Maria, who is a force to be reckoned with. She doesn't back down to Plummer's Captain Von Trapp, his rules, or his whistle. It just gives me chills thinking about about how fantastic Andrews and Maria are. They are both great role models, and I will prove just that with these feminist moments from a film that stands the test of time — and, yes, most of them are brought to you by Maria.
When Maria Doesn't Follow The Rules
Throughout the entire movie, Maria breaks the Captain's rules, because, well, she wants to have fun with the children, be herself, and teach them her own way because she thinks his way is ridiculous. In the end, he sees Maria is right. Sometimes good does come from breaking the rules
When Mother Abbess Is All About Following Dreams
Even though Maria is on her way to being a nun, Mother Abbess can tell she is falling for the Captain. In the end, she tells Maria to "Climb Every Mountain" and to follow her dreams, because that is what is most important.
When Maria Sings "I Have Confidence"
The lyrics of "I Have Confidence" say it all. From Maria going on an adventure to her declaring she has confidence to promising she'll take on whatever challenges presented, Maria shows she wants it all. This really should be the film's anthem.
When The Nuns Show Off Their Car Skills
Remember when the nuns help the Von Trapps escape the Nazis? Some of them prove they don't need to take an auto class, because they are able to sabotage their cars by removing parts all on their own. They know more than just religion.
When Maria and Liesl Have A Mother/Daughter Moment
Throughout the entire movie, Liesl is hung up on Rolfe (Who is actually a Nazi — gasp!). However, after Maria marries the Captain, she tells Liesl love will happen, eventually. The best thing Liesl can do is wait, because there's no rush, especially since she's only 16. Amen, Maria. Amen.
When Maria Says This To The Captain
At the beginning, the Captain is showing off his whistle skills when it comes to calling the children. Eventually, Maria says she won't answer to the sound of a whistle. Then, she blows the whistle at him and says, "Excuse me, sir, I don't know your signal." Just another reason to love Maria.
When Maria Stands Up For How She Looks
The last thing Maria cares about is her appearance. She's all about living life to the fullest and ensuring she's doing a good job of taking care of the Von Trapp children. She shows there is so much more to life than being proper, looking pretty, and having money. Maria is the best governess the Von Trapps could have ever asked for.
When Maria Follows Her Heart
There's no doubt that Maria follows her heart throughout the entire movie. No matter what anyone tells her she can or can't do, Maria proves them wrong. If we can take away anything from The Sound of Music it's just that: follow your heart and dreams, because in the end that's what matters and will make you happy.
Image: 20th Century Fox; Giphy; everythingsoundofmusic (2), thepandaofmetal, tracylord/Tumblr