Did You Know These 'Alice in Wonderland' Facts?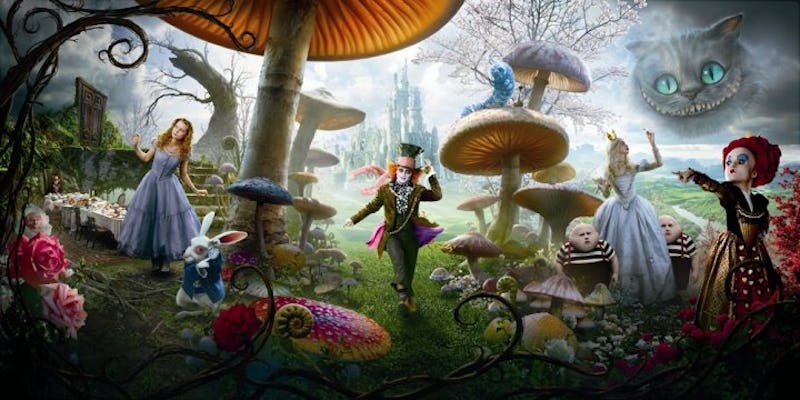 I can't think of a more perfect match between a story and a director than Tim Burton and Alice in Wonderland. Considering his history of unsettling and creepily dark movies, Burton seemed like the best choice to make a modern version of Lewis Carroll's famous Wonderland books Alice in Wonderland and Through the Looking Glass, especially since he recruited Johnny Depp to play the Mad Hatter, Mia Wasikowska to be Alice, and Helena Bonham Carter to take on the Red Queen. It was definitely one of the films I looked forward to seeing the most back in 2010. And now, the remake turns five years old and there's still so much I'm still learning about the epic movie.
Like most of Burton's works, Alice in Wonderland was definitely a feast for the eyes, but it wasn't a favorite of many critics. The film got mixed reviews from critics and received a 51 percent "fresh" rating on the review aggregate website Rotten Tomatoes. Burton and screenwriter Linda Wooverton attempted to add some heart — and psychology — to the story with confusing results. Some people thought it was a sequel to previous Wonderland films. Some thought the film was a re-imagining of Carroll's original Wonderland. Most people (like me) just walked out of the theater charmed by all the wonderful visual effects, but completely bewildered by the story that went with it.
But there's so much more to the film than just the dazzling visuals. Here are seven things you probably didn't know about Burton's Alice in Wonderland.
It's Tim Burton's Most Successful Film to Date
The remake has grossed more than $1 billion worldwide and is the second best grossing film internationally in 2010. It's the 17th best grossing movie of all time in the world.
The Movie Won Two Oscars
Despite mixed reviews, Alice in Wonderland took home two technical Academy Awards: Best Art Direction (Robert Stromberg and Karen O'Hara) and Best Costume Design (Colleen Atwood).
Star Mia Wasikowska Has Been Busy
Post-Alice, Wasikowska has been in the films The Kids are All Right, Jane Eyre, Lawless, Stoker, Only Lovers Left Alive, and Maps to the Stars.
This Wasn't Linda Wooverton's First Disney Adventure
The veteran screenwriter's credits include the Disney classic Beauty and the Beast, The Lion King, and Homeward Bound: The Incredible Journey. Recently, she wrote the script for Maleficent, the smash hit retelling of Sleeping Beauty starring Angelina Jolie. Wooverton knows how to write a hit movie — and ones with strong female protagonists. I mean, this is the woman who created Belle.
Burton and Depp Have Worked on 8 Movies Together
It's a bromance that began with 1990's Edward Scissorhands and has extended as recent as 2012's Dark Shadows. Burton and Depp have a director/star partnership like no other. Okay, well, it could be compared to Martin Scoresse and Leonardo DiCaprio, as well as Burton and former girlfriend Helena Bonham Carter.
Too bad, though, that Carter and Burton split last Christmas after 13 years and two children together.
Anne Hathaway is In It
Yeah, I totally forgot about that, too. She plays the White Queen.
There Will Be a Sequel in 2016
Burton, Depp, Wasikowska, Carter, and even Hathaway will be back in Wonderland for Alice in Wonderland: Through the Looking Glass, set to premiere in the summer of 2016. The cast and crew filmed the sequel last fall, including scenes at the Gloucester Docks in England with many historic ships.
Images: AliceinWonderland/Facebook; Giphy (6); Getty Images