Non-Scary Ways To Add Some Color To Your Wardrobe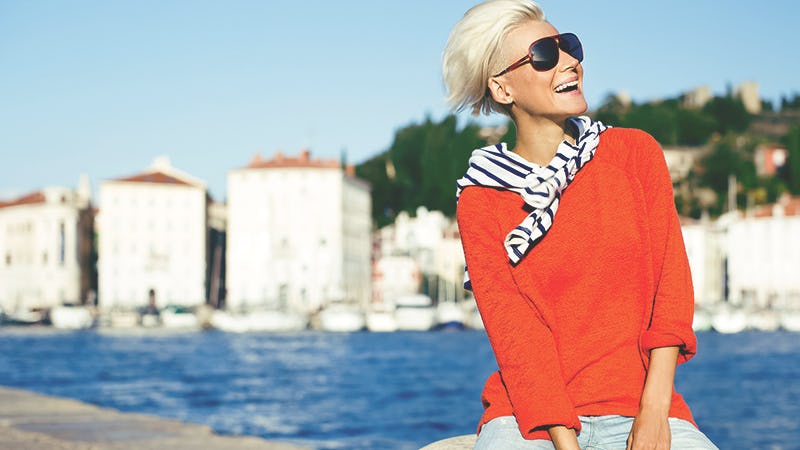 I have been guilty of "forgetting" to wear an actual color all week. Neutrals are my life and can go with everything, so why stray away? Because OPI tells me to, Spring is coming up, and my mom is starting to get concerned about my ability to shop, that's why. Even though it can be a little scary, it's worth exploring ways to wear more color as the the weather gets warmer.
OPI and POPSUGAR partnered to challenge readers to add color to their wardrobe for the next 12 days, and share photos of their new, colorful wardrobe using #PSOPIChallenge. I'm a sucker for a challenge, so I'm up for giving it a try.
Of course, because of my love for neutrals, I don't have all these colors in my closet. Instead, I decided to try getting a little experimental and play up these colors using my nails, eyeliner lipstick, socks, and anything else I could find lying around my house. Take a look at these easy ways to add a little color in your wardrobe for next 12 days without totally giving up your love for wearing all black.
Day 1: Bright Pink
Bright pink is not an absurd color to wear on your lips, but definitely a stretch for someone who usually opts for a little concealer and swipe of mascara. Take a risk and try this one day of bright lipstick though, and you may find yourself with a newfound pop of confidence. And the best part? It looks great with black outfits. Warning: It may be a gateway drug for other bright lipstick colors.
Day 2: Golden Red
A golden red belt is the perfect way to break up any denim-on-denim outfit or printed jumpsuit this spring. And a braided belt, like this one at Forever21, adds a vintage feel to a modern outfit. Plus, it's close enough to brown to feel like you're still wearing neutrals, but the subtle pop of color will make a difference.
Day 3: Bright Green
Play up colors this spring with green eyeshadow or liner. Definitely a risk for neutral-wearers, but it's a fun way to play up little pops of green on your wardrobe. Almay recommends green eyeshadow especially for brown eyes or hazel eyes, but if you have blue eyes, the pairing will totally remind passersby of the ocean, causing the double-take we talked about earlier.
Day 4: Orange Cream
Orange cream on your nails is appropriate for all ages in the spring time. Even if you still wear all black to your office, a colorful nail polish will brighten up your ensemble just enough.
Day 5: Pineapple
A sneaky way to add brights to your wardrobe? Rain boots. After all, April showers bring Hunter rain boots... or something like that. Since they feel kind of like fake clothes, you won't be as self conscious about their super bold shade.
Day 6: Creamy Nudes
Officially halfway through the OPI color challenge and we finally get a chance to wear a slight neutral color again. This soft pink is perfect to wear with sandals, which has been frowned upon until recently. Seize this opportunity to make heels more comfortable.
Day 7: Minty Green
Mint green sunglasses are the only way to wear sunglasses in the spring, right? Make a statement with your outfit by slipping these on, from Target, and you'll be ready to attend any summer concert (even if you're just walking to work).
Day 8: Dusky Purple
Myth: Dark purple is only meant for winter. In case you bought a dusky purple purse this snowy season, keep it around with your spring colors. It looks great with orange, green, red, and, yep, your trusty black.
Day 9: Bright Coral
Not a huge fan of coral-colored clothes? Add a pop of this color to your cheekbones instead. So, so pretty!
Day 10: Royal Purple
One of the best decisions I made last spring was to buy an purple snapback to wear in the spring and summer at baseball games, on the lake, or just days out with friends. It's a stylish way to protect your eyes and can be played up with certain outfits or just thrown on for a day out. Before leaving the house, I would make sure it looks more vintage than new. Otherwise, people could mistake you for a Rocket Power kid or a character from Doug.
Day 11: Lagoon Blue
There's something so ethereally gorgeous about pastel blue liner. Try going more experimental than just lining bottom line and feel free to replace the style with what you would normally do with your daily black or brown eyeliner.
Day 12: Mauve
With the magical powers of hair chalk and wash-out hair coloring spray, you can try almost any color in your hair. Mauve is a tame color to start out with to see if the chalk treats your hair well, or if you even like the different color in your hair. If you love it, it's easy to test out a new color every week without damaging your strands.
Images: Getty (9); Forever21; Farfetch; Target; Sport-Tek; Porechenskaya/Fotolia