Will Nick and Jess Finally Get Back Together?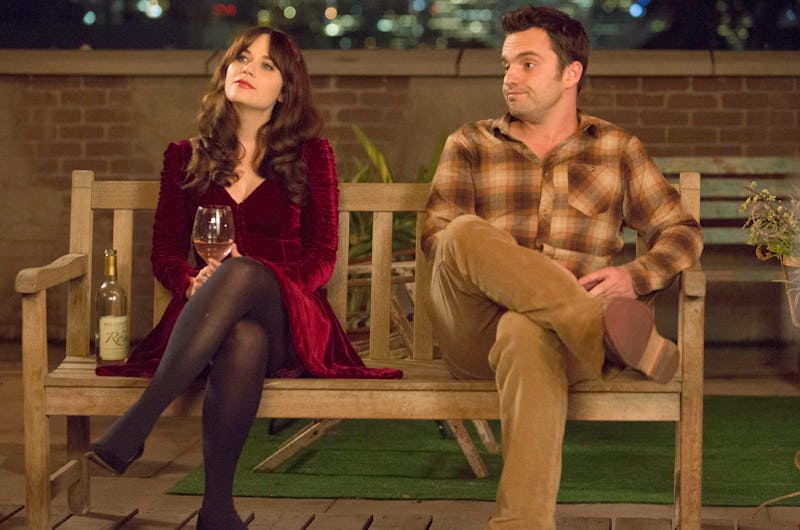 OK, enough time has passed for us to end the charade and reunite Nick and Jess as a couple on New Girl . When they first got together in Season 2, I was wary. Couples in ensemble casts never do any favors for the show in most cases, and unfortunately, it felt like the show focused too much on Nick and Jess as a couple than any other story line. So when they broke up in Season 3, I wasn't heartbroken and watching Dirty Dancing on repeat in my PJs with a Mount Everest of tissues next to me. But here I am, Season 4 of New Girl, wishing more than anything that Nick and Jess would get back together.
Throughout the season, fans of the show have been given reminders of how much chemistry these two have together. But despite these moments of perfection, the writers of the show haven't indulged true shippers of Nick and Jess just yet. In fact, they've been really sending us for a ride by pairing up the two with equally "blah" characters to waste time building up to what will hopefully be a reuniting of this couple.
Not completely sold on these two getting back together? Here's some reasons why you should think otherwise.
Nick Still (Clearly) Loves Jess
Have you caught how much Nick has done for Jess in the past episodes? For instance, when Ryan and Jess broke up during Jess' dad's wedding, Nick was the first person to step up and make sure her plan to show Ryan Portland was still perfect. Also, Nick definitely thought of Jess' name when he threw the rock into the pond.
Jess Needs Someone Who Is "There"
Emotionally, physically, mentally, all the types of "there," Jess deserves. Nick is clearly there for Jess when it comes to her emotional needs, and he's physically present in her life, unlike Ryan. Basically, just "no" to Ryan.
They Make A Great Team
Maybe it wasn't their smoothest plan, but when Nick helped Jess with being "Gay Nick" it might not have proved that Jess and Nick living together was NBD to Ryan, but it did prove that these two are pretty unstoppable when it comes to their convoluted plans. They rarely work out, but they will go to bat for each other whenever the other needs it, and that's pretty grool of them.
Because Prince Brought Them Together
And when do you deny a relationship that Prince brought together?
Images: Nicole Wilder-Shattuck/FOX; Giphy (4)