6 Best Moments From Deleted '50 Shades' Sketch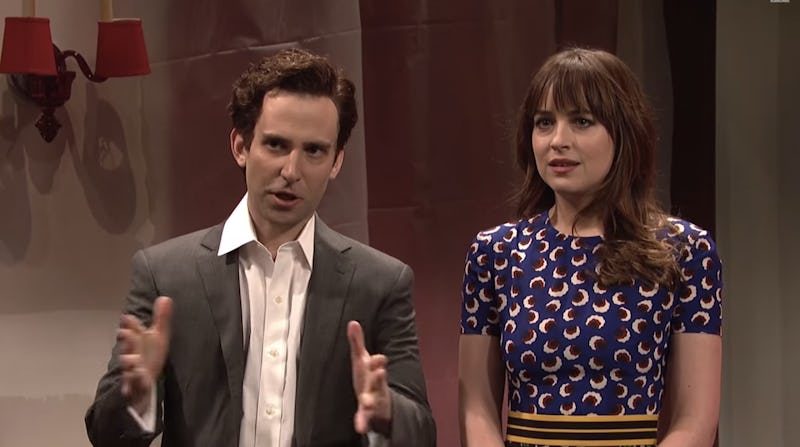 There are a lot of elements of Fifty Shades of Grey that raise plenty of eyebrows. There are Christian Grey's contracts for his lovers, the physics of the many positions, and the famous Red Room of Pain. Naturally, when the film's star, Dakota Johnson, hosted Saturday Night Live , the writers had to dig into them. Unfortunately, the producers cut a sketch called "New Playroom," which shows viewers the very un-sexy construction of the Red Room of Pain. Kyle Mooney plays a doofy Christian Grey while Bobby Moynihan and Taran Killam explain to Johnson where they're going to install all of the swings and BDSM doodads. There's a lot of yuck-yuck high school humor and bad puns, but I will never get enough of Moynihan being Moynihan.
All in all, "Play Room" really does make you wonder how Christian Grey got all of that stuff installed. Are there sex room interior decorators and contractors? What sort of zoning permits do you need for this kind of construction? What sort of rope actually has the best grip and won't chafe? Does everyone have a shame blanket? Though not ALL of these questions get answered in "New Playroom," a few of 'em sure do... whether you wanted all of the saw dust-covered details or not.
Here are the best moments from the cut sketch:
Nico and Sal Renzetti
I can only imagine what their ads look like.
The Puns
"Our hands are tied." OH NICO!
What Lies in the Mahogany Floating Shelves
Who doesn't need a safe space for their dildies, floggers, whippers, ball-y gags, and booty beads?
The Issues With the Pull-Down Spank Board
There just aren't enough people saying, "Wiener holes" on live television.
Anastasia's Slam
"I think the better question is where they've been." Even though her delivery was a little dry, the reaction was priceless. Flying dildies!
Anastasia's Reactions to "The Punishers"
My feelings exactly.
See the whole clip below.
Images: Saturday Night Live/YouTube (7)