What To Pack For Spring Break, No Matter Where Your Amazing Travels Take You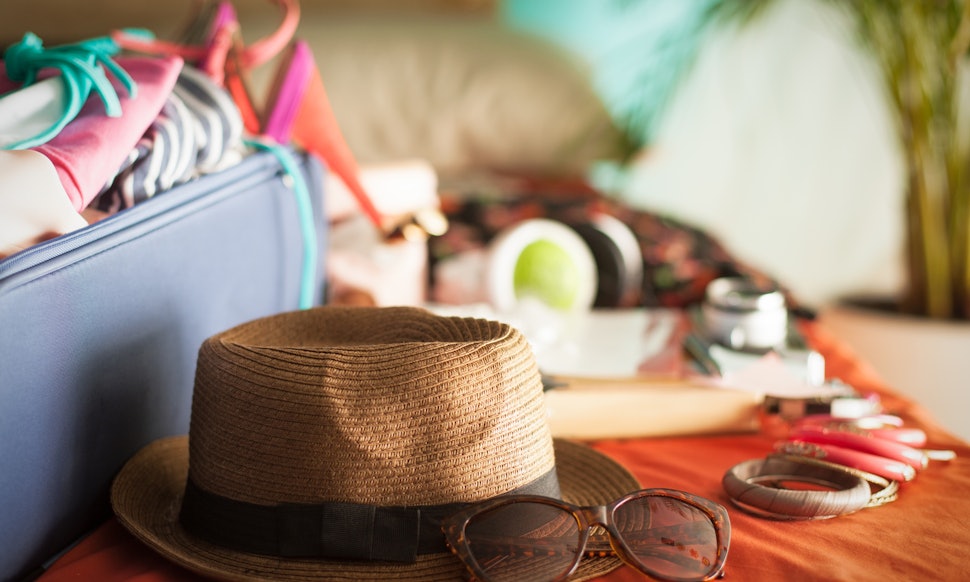 That wonderful time of year is finally here when you're afforded a brief glimmer of happiness in the form of a well-deserved break from school. After months of stressing through winter finals and freezing cold weather, it's time to start packing for spring break. This is basically the week (or two if you're lucky) that acts as the glue that keeps your sanity intact. #springbreakweloveyou
Besides being necessary to your mental well-being, spring break is also the perfect time to head out somewhere for a mini vacation. Whether you choose to stay close by or head somewhere far away, hit up the beach or explore the big city, spring break means getting out there and enjoying yourself in a different place.
Each vacation destination comes with its own unique bit of fun — and a packing list full of specific necessities to help you make the most of your trip. So because I want you to have the absolute best spring break ever, I've put together a fail safe guide to make sure you bring everything you need for a surefire good time. From the mountains to the lake to the beach, I've got you covered in the packing department so you'll have everything you need to have the best spring break ever.
Images: Fotolia
The Beach
When you're planning a spring break trip, it doesn't get much better than the beach. If this is where you're headed, then there are a few essentials you need to have with you. Don't forget waterproof mascara and sunscreen — you don't want to sweat or swim either of these off. Pack a bunch of easy-to-wear lightweight tees, a beach cover up, and a few bathing suits to put into rotation. I also suggest skipping on a huge amount of shoes and going for one trusty pair of flip-flops to keep your luggage light. Last but not least, keep your cool by bringing along a protective sun hat and some shades.
Image: Polyvore
The Mountains
If you're heading to the mountains this spring break, there are a few important must-haves you should bring along. For starters, don't forget your winter coat — you'll thank yourself later for the extra coverage and bit of warmth. Also make sure you have other cold weather essentials, like cute mittens, gloves, and a hat. And while it might seem obvious, remember to pack boots that are practical with proper snow treads on the bottom in order to avoid any accidents. And last but certainly not least, pack sunscreen. The sun is strong on the mountains, and there's nothing like a nasty burn to ruin your break.
Image: Polyvore
The City
If you're making your way to the city, make sure to stock up on a map and guidebook (even if it's just an app version), bring along your camera, and make sure you have a huge stack of Band-Aids for the blisters you will inevitably get from all that sight-seeing. I also suggest bringing at least one badass outfit for when you enjoy a well-deserved, proper night out on the town.
Image: Polyvore
The Wilderness
Spending your spring break camping is a great way to get in some quality time with the great outdoors. If that's you, we suggest you double check you have your essentials like a waterproof tent, heavy duty backpack, and of course lots and lots of water and snack food. Forget about looking wilderness chic — go for the most comfortable and durable pair of shoes you've got, and you'll enjoy yourself much better. Don't forget to bring along some sport sunscreen and a durable waterproof coat as well, because temperatures can fluctuate this time of year, and there's nothing worse than freezing your butt off when you should be having fun.
Image: Polyvore
The Exotic
If you're lucky enough to escape somewhere far away and exotic for spring break, we envy you. We also know just what you need to make an awesome trip all the better. Get into the vibe of your destination with fun maxi dresses and colorful prints, strappy sandals, and anything else you wouldn't normally wear until mid-summer. Last but not least, make sure to bring some good lotion and chapstick. Changes in humidity and temperature can wreck havoc on your skin.
Image: Polyvore
The Lake
When it comes to a vacation, the lake is always a prime choice. Just be sure you have sunscreen and, more importantly, bug spray, or you'll be cursing yourself for the rest of the trip. Also remember to pack a blanket, bathing suit, and backpack for lake-side lounging, and a baseball cap and sturdy shoes for when you feel like exploring.
Image: Polyvore