A Case For Unconventional Jeans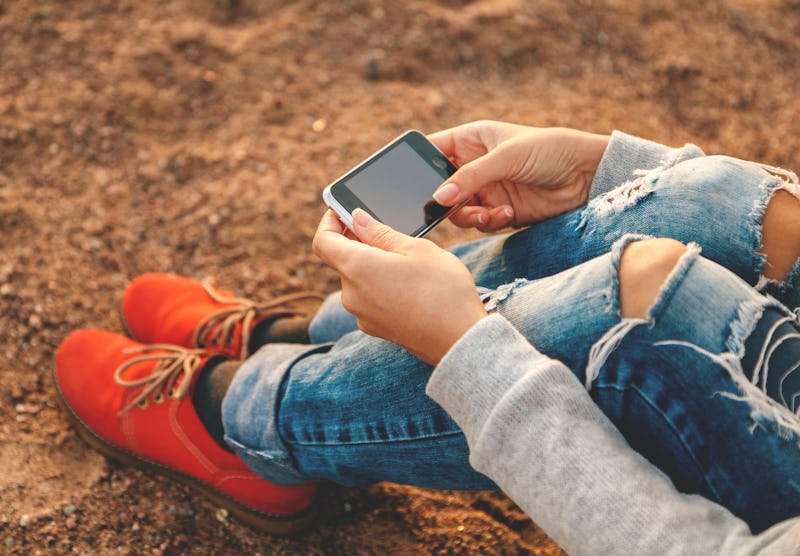 As I was falling through the online shopping abyss the other day, I came across a pair of wide-legged, cropped jeans from a very affordable high street source. I had noticed the gaucho look gaining momentum over the past year or so in fall and spring online lookbooks (Tibi and Rachel Comey to name a few) and street style photos, but I was still somewhat surprised to see affordable styles of the pant available to purchase and wear on the regular.
The trajectory of trendsetting fascinates me — that a style put down the runway by a high end designer is quickly imitated and mass produced by mainstream retailers. When I first took note of the gaucho pant last year, I was excited that I'd eventually be able to wear it. They were a new (or at least recycled) cut and as is the effect of clothes styled on runway models, they looked intriguing. It would take a while for an iteration of them to make their way from the catwalk to Barneys to Zara, but alas, here they are, ready to wear for plebeian clotheshorses like me. Now that they're within a credit card's reach, though, I'm wondering: Do I really want to to wear them?
Here's the thing about gauchos: They're the Barbra Streisand of pants. They're not conventionally attractive. I'm going to flesh out this metaphor a bit more to both entertain myself and clarify my point. Let's say gaucho jeans are Katie (played by Barbra Streisand) in The Way We Were. They're complicated [to wear] and meant for a very specific body type. Opposite Katie is the simple girl, the mainstream denim trend, which has gone from bootleg to skinny over the last 10 years. They're easy to wear and fit most body types. Hubble (played by Robert Redford) is the denim wearer. He loves gauchos, but they're loud and risky. How does he wear them? How often will he wear them? Are they appropriate to wear in a variety of situations? Hubble loves Katie, but he can't commit to her and the life she comes with, so he settles for the simple girl. He can wear the simple jeans in a multitude of situations, dressed up or dressed down. Gaucho jeans are complicated, skinny jeans are not, and why go for the complicated option when you can have the simple one? Because the complicated one is more fun.
I may have crossed a line into crazy by equating the characters of an Academy Award-winning movie to denim, but it's to prove that trends that go against the traditional idea of "dressing for your body" are risks worth taking. This is a very unsubstantiated assumption, but I have feeling that most people will look at a pair of gaucho jeans (when not worn by a 5'10" model but by an averagely built 5'5" woman) and agree that they're unbecoming. Why would anyone intentionally wear a pair of cropped, loose, wide-legged jeans that drown their body in fabric when they could wear a slimming pair that draws positive attention to their curves?
Aside from the gaucho, there are a crop (pun very much intended) of trending jeans on the market now that challenge the notion that women should wear pants that yield a feminine silhouette. The boyfriend jean with its relaxed cut that renders a saggy butt has changed the way women wear jeans since Current/Elliot came out with the boyfriend jean in 2006. The mom jean, which has a high-waisted, loose fit entered the scene over the last two years with the help of hipster bloggers and normcore enthusiasts. Overalls have slowly trickled their way to trendy, as evidenced by a pair in Alexa Chung's new collection for AG.
Though I haven't confirmed my gaucho order yet, I recently bought a pair of unconventionally-fitting pants. They're a coated leather jean and I bought them for the sole reason that they were on sale for $12. I didn't try them on in the store because I was rushed and lazy, and when I put them on in the comfort of my apartment, I was appalled at how horribly they fit. No wonder they were final sale. They have a snug high waist, but they're loose in the front and tight in the back. Their straight leg is too short. Their fit is so odd I can't tell if they're too big or too small. I confirmed that they looked weird because people who are comfortable telling me my pants look bad have told me so. Despite this, I've worn them on three different occasions in the two weeks that I've owned them. I don't know why, but I like them.
To wear my odd pants and the aforementioned styles is to go against the grain of dressing for my body. Each style is an acquired taste. They aren't feminine and they don't appeal to members of the opposite sex. Wearing them is more about dressing for myself than taking a fashion risk. If you don't worry about what other people think and remind yourself that getting dressed should be fun, then who cares how spunky and ill-fitting your pants are? And if The Way We Were taught me anything, it's that Hubble should've chosen Katie. So I'm buying the gauchos.
Images: Fotolia; Flickr/Alan Light; Getty