Female Activists Are Rallying Outside SCOTUS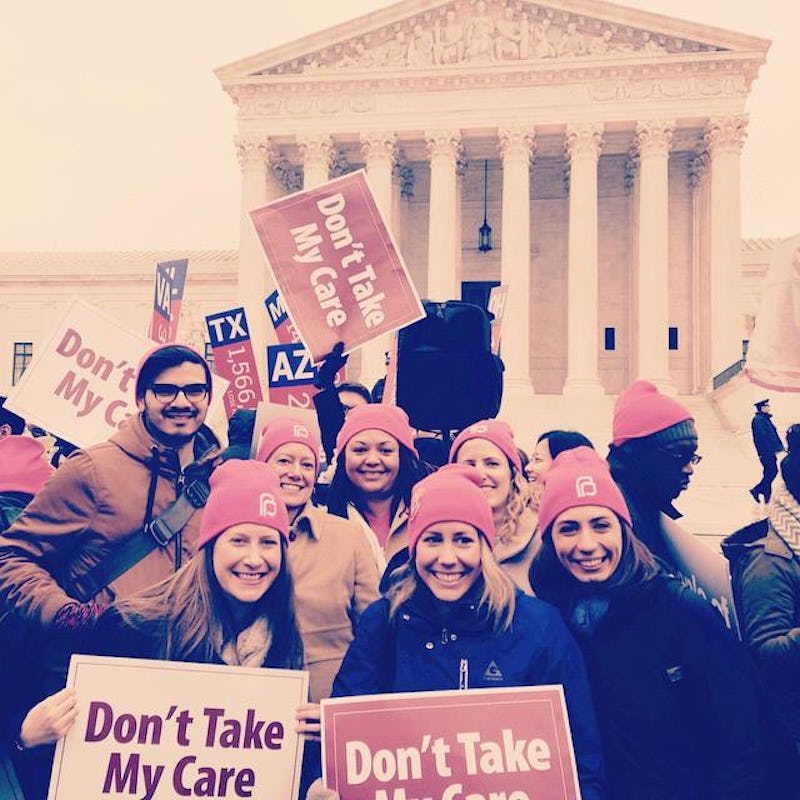 On Wednesday in Washington, D.C., reproductive rights activists gathered on the Supreme Court building steps as inside, the nine justices heard arguments on a case that could undo a segment of America's health care system. King v. Burwell is the latest legal challenge to the Affordable Care Act, and depending on how the nine justices swing, the case could impact between 7.5 and 10 million Americans.
This case centers on federal subsidies, which are given to residents of 37 states who receive their health insurance through the federal marketplace (aka Healthcare.gov). These states have either failed to set up their own state-run insurance exchange, or use one supported by the federal government, forcing Washington to pick up the slack.
The 7.5 million people currently enrolled through this marketplace receive a subsidy that covers more than 70 percent of their health insurance premium. Officials with the Department of Health and Human Services contend that a majority of these enrollees would lose their health insurance if the Supreme Court overturns the federal subsidies.
The millions of Americans at risk for losing their health insurance are predominantly low-income or middle-class, women, and children. In fact, recent research shows that more than 4 million women, including at least 1.4 million women of color, could immediately lose their health insurance if this provision of the ACA is struck down. Some women's health activists have placed the number of impacted women at 7 million, as health care enrollment is expected to increase in the next year. Half of those 7 million are women of color, including at least 2 million Latinas.
With the health and lives of millions of American women hanging in the balance, women's rights activists began promoting the slogan #SaveHerCare on Wednesday to highlight the potential dangers of King v. Burwell.
Even Sister Simone Campbell, the renegade religious sister behind Nuns on the Bus and social justice lobby NETWORK, joined activists outside the Supreme Court to deliver a speech on the importance of providing affordable health care for low-income people.
Here's some more info on whose health insurance hinges on the King v. Burwell ruling…
Image: Cecile Richards/Facebook