'SNL:' Did Bruce Willis Die Hard?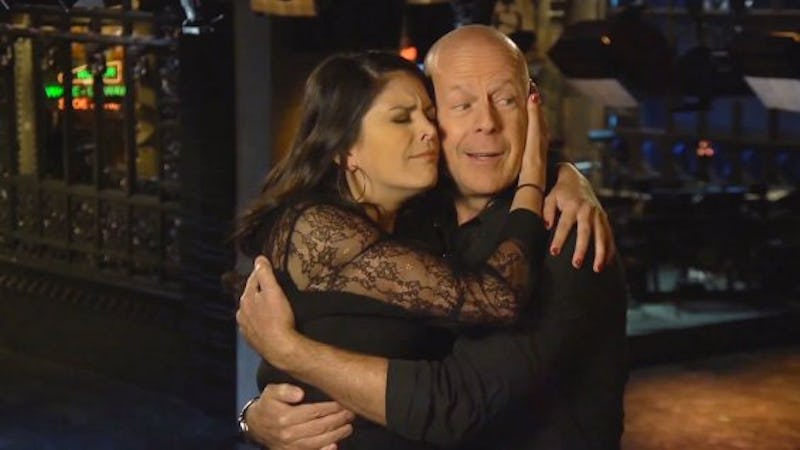 This week's Saturday Night Live showed Bruce Willis off where he's most at home (impassioned harmonica solos, saving the day), but he was also game for every ridiculous line the writers chucked his way. The episode handed nearly every sketch over to the action star who delivered on stage presence with a hammy self-assurance and comedic range that Miley Cyrus just doesn't have. Willis' up-for-anything energy fits right in with the cast, and yeah, the Die Hard franchise should have reached its expiration date a while ago, but there he was transitioning assuredly from his tough hero shtick to Michael Kors and one half of a centaur.
The cast kept the energy high for sketches packed with recurring characters, but the writing was only decent. We saw some untested concepts including a fraternity house sketch pulled right from the sketch group's Good Neighbor playbook. These subtle bits may have made the sketch group YouTube-famous, but this one didn't play well to a live audience.
This was the night for bromance. All male casts filled the sketches about navy seals, a barber shop, boy dance party, astronaut mission, and frat house. At least we got a new dance recommendation out of it: Shake Your Sack (the new Sloppy Swish?). We can accept some of this, but could have used a female navy seal to round out the male dominance.
Still, after the second astronaut sketch of the night featuring Moynihan's recurring weird attachment to his kitty cat, SNL had officially made up for last week's Miley-packed episode (she was great on stage, but the skits were just okay) and proved why people still actually watch this show live – because it manages to keep things the same where it matters and reinvent itself at the same time.
BETTER THAN MILEY PRETENDING TO BE SCARJO
Weird, but the short cold open bet on a Gravity parody targeting the government shut down was the highlight hitting all the right beats in a few short minutes. Stranded astronauts beg the only employees on call during the shutdown, the janitorial staff. Kenan recommends the Charlie and the Chocolate Factory method of getting back to earth with little burps as the astronauts draw their last breaths.
Honorable mention for a hilarious 24-hour energy for guys who date actresses commercial parody.
MORE TIRED THAN MILEY STICKING OUT HER TOUNGE THE WHOLE TIME
The most unfunny sketch of the night was the overly written barbershop sketch featuring our host, Kenan and Jay Pharoah as barbers. The idea of the boring white guy with deadpan delivery had more comedic value than the show explored. Willis' flatness, even though it was purposeful, was just as tiring as you'd expect.
KP IS GOOD, BUT NOT GREAT (PROPS GO TO MILEY FOR THAT ONE)
Two words: stage props. She got the crowd going with the anthem-y "Roar" and there's an unforced power to her voice. But can Katy and Miley please return the plushy animal costumes to children's shows? For her second song "Walking on Air," dancers used a fan-blown metallic sheet to make it feel more satire than the musical performance.
CECILY STRONG IS ON HER WAY
Pretty hilarious Weekend Update jokes, and Cecily Strong is settling in quickly. Kenan Thompson as Barry Black gave the shutdown some harsh criticism, but random laughs threw Brooks Wheelan's timing for his too-long bit on tattoos, which was just unnecessary. However all is forgiven with a never-ending onslaught of solid Bruce and Kris Jenner's divorce jokes.
BUT WE NEED MORE KATE
For the Lady Gaga show sketch, Vanessa Bayer's Lady Gaga sounds a lot like her Bar Mitzvah boy. Compare for yourself here.
Still Kate McKinnon saved the day as Penelope Cruz, and could easily become the woman to ascend to Kristin Wiig heights. She's reliable in every sketch she's in, no matter how central or small her character, she brings an intense commitment to her deal and she's got charm. Please make her Ukrainian cleaning lady and meth mom recurring characters and give her a talk show.
Sorry guys, you'll have to wait two weeks to get your next SNL fill. Edward Norton hosts on Oct. 26 with Janelle Monae as the musical guest.