'SNL' With Miley Isn't Funny, But That's Okay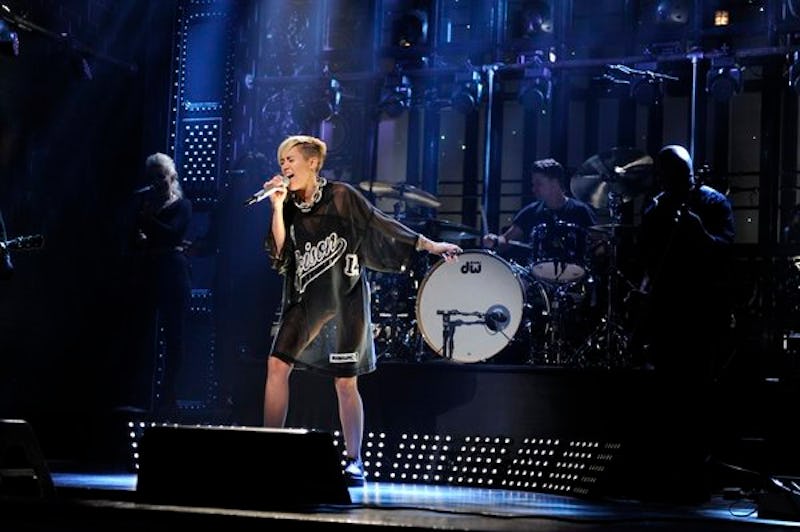 Let's just say that Miley Cyrus should definitely keep her day job — you know, that one that calls for her to fellate foam fingers and sledgehammers? Cyrus hosted SNL this weekend, and while she did manage to pull out the significantly funny music video parody — "We Did Stop" starring Sexy Michelle Bachmann, sexy baby John Boehner, and the unsexy Government Shutdown — for the most part, Cyrus was (as she often is) simply trying too hard. From playing a teenage rap music enthusiast, to a cheerleader who has trouble pronouncing the word "ok" correctly, Cyrus largely screamed her way through the episode, leaving many ears sore and in need of respite. Luckily, when it came time for Cyrus to do double duty as the episode's musical guest, she was her own remedy.
While parents and angry people across the United States love to hate on Cyrus for being too sexy and showing off her assets on National Television, at the very least, Cyrus proves that she belongs in the public eye for one very good reason: this girl can sing. And with the largely positive reviews of her new album Bangerz pouring in while "Wrecking Ball" gets stuck in the head of every person who ever reads anything on the Internet, it's time to stop acting as if Cyrus is just a teddy-bear onesie-wearing goofball with too much privilege. Say what you will about her wardrobe choices and her proclivity for whipping her tongue around like it's Willow Smith's hair, Cyrus is a pop singer worth watching.
Compare and contrast for yourself. Below, we've included Miley's ho-hum cold open and her dynamo performance of "Wrecking Ball." If you can get past the fact that her costume consists of black underwear and a sheer jersey-turned nightgown, you're going to have to admit: girl can sing.
Image: NBC