Is Kim Kardashian's Blonde Hair Real?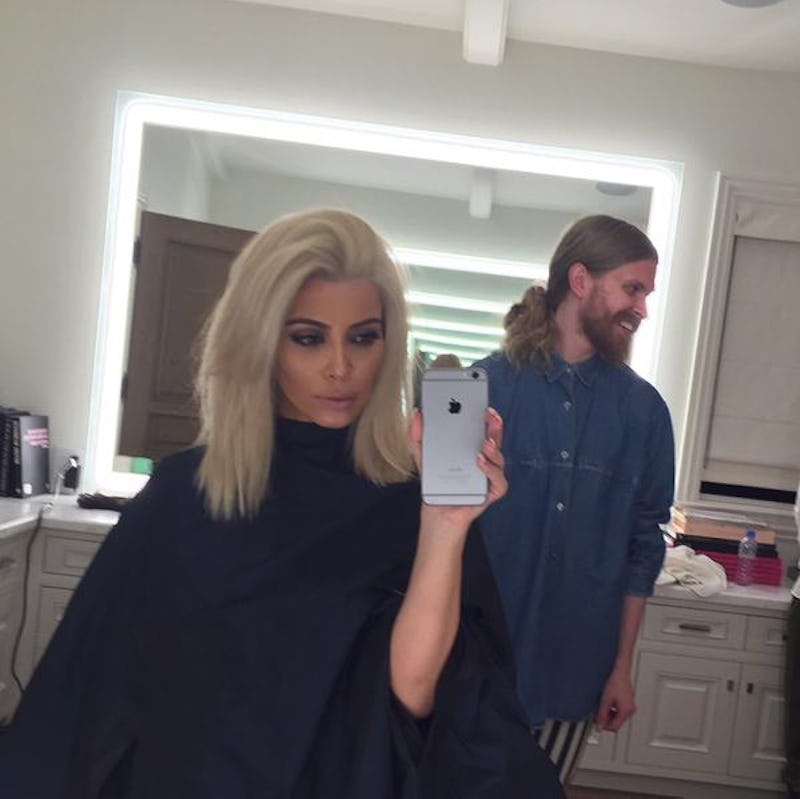 Rarely a day goes by without Kim Kardashian, or any member of the Kardashian Klan for that matter, making top headline news. Today is no exception of course — Kim Kardashian revealed platinum blonde hair, effectively shocking the whole world (yet again), and people are losing their minds. While Kimmy has flirted with blonde in the past, this time she's gone full-frontal with a bleached platinum shade that is definitely a first for her. Maybe she was jealous of all the attention Khloe was getting for her blonde tresses? Either way, this dramatic transformation is definitely getting her tons of buzz.
Kim K's new 'do was first spotted in Paris, when she (poorly) attempted to cover it under an oversized beanie. She later stripped off the headgear to let her newly lightened locks spring free. The question now remains — is her blonde hair real or fake? After all, going from jet black to platinum blonde (completely opposite ends of the color spectrum) is no an easy task, one that definitely takes loads of time and work. She seems to have magically changed hair colors overnight, so let's do a little digging shall we? Did Kim opt for a full on dye-job, or is this new look just a wig? We have answers!
Clue #1: Dark Roots
If you look really closely at the side of her head, you can kind of see the underlying tones of her previous dark strands. It's pretty visible in this picture, which clearly indicates this is indeed a dye job.
Clue #2: Damaged Tips
This one is a little harder to see, but if you've had experience coloring your hair, you can probably tell that Kim's tips look a bit damaged, which is definitely a side effect of extreme dying. Especially for someone who changes her hair as often as Kim does.
Clue #3: Lighter Eyebrows
Although Kim's brows aren't light enough to match her hair, they do seem to be a tad lighter than they were just a day or two ago. It's likely that she colored her brows to be a little less opaque so they didn't contrast with her new hair color so much.
Clue #4: THIS
The biggest clue of all? This shot of Kim K seated at the hair salon, freshly bleached locks on display. Lookin' good, lady!
So what's the final verdict? Kim Kardashian's platinum blonde hair is DEFINITELY real. She must have had a really skilled glam squad!