5 Essential Spring Break Beauty Tips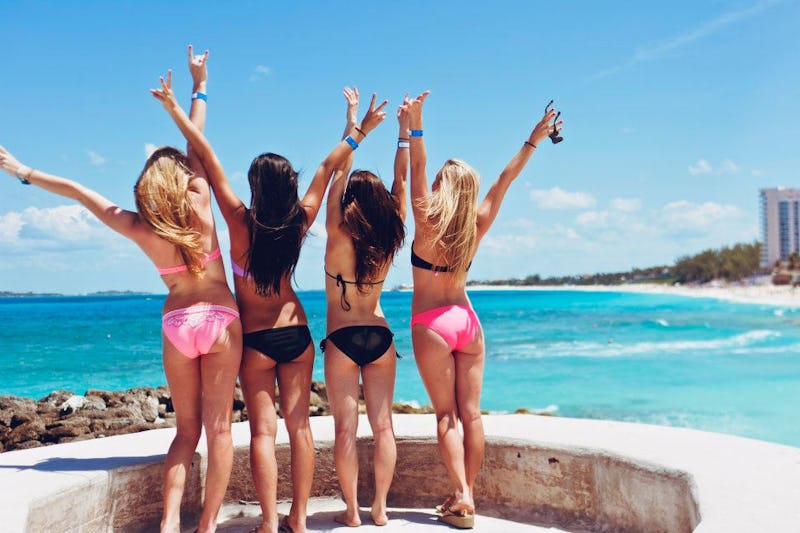 Time to pack away those books and boots for a week of sun-drenched fun. Rum daiquiris, handsome strangers, laying out on the beach, late nights; It's officially spring break! I know from experience that there is nothing like those first delicious moments of tropical sunshine every March. And there is nothing quite as depressing as arriving home with a flaking sunburn and brassy hair because you neglected crucial spring break beauty tips. Remember last year? It's all fun and games until someone tags you in a truly terrible Facebook picture. I know — I've been there, too.
My mistakes? Where should I begin? Someone should have warned me that swimming in the ocean doesn't give you Gisele's perfect waves. Mostly, it just makes hair frizzy and feels really dirty. Also, the tanning oil my friends were using to achieve that perfect bronze turned me into a sweet shade of tomato and then my nose started to peel. Not exactly the look I had in mind for bar hopping with my crush.
This is all to say that you can learn from my beauty blunders. I know you don't want to miss a moment of the party so simplify your routine with these 5 easy spring break beauty tips.
1. Ditch The Retinol
You probably don't want your face to be red and peeling the second you hit the sand, right? So before you take off, lay off any retinol products (like Differin) for a few days. Even at home on the best day, it makes your skin super sensitive and dry. Add in direct sunlight and you have a recipe for lobster face. So sit under an umbrella as much as possible and, of course, keep layering on the sun block.
2. Wax Early
While we're on the topic of skin care, remember to get that wax at least two days before you leave. Skin is obviously irritated after a wax and exposing it to things like sand and chlorine can exasperate the problem as well as lead to ingrown hairs and even an infection. Not cute. Also, your bikini line can burn too so a light layer of sun block is essential.
3. Condition, Condition, Condition!
Hitting the pool? Hair is basically a sponge, so get it wet and saturate with conditioner before you swim to stop chlorine from being absorbed!
4. Master The Stylish, But Simple Ponytail
After your swim, pull hair into a super easy twist-to-ponytail. It's sleeker than a messy bun but just as easy, plus you'll stand out from the sea of topknots! Start by separating the hair around your face into two sections and putting the rest into a ponytail. On the left side, separate that hair into three parts and then twist each section up and wrap it around the base of the pony, finish with a pin and repeat on the right side.
5. Lighten Your Cosmetics Bag
As any spring break veteran knows, a face full of makeup on a tropical getaway just looks silly. You want to look fresh and glowy, not overdone! Besides, who wants to waste time in the mirror when all those cute guys are waiting on the dance floor? Double up with multi-purpose products to cut prep time in half.
BB Creams do everything from moisturizing to blurring imperfections without feeling heavy or sticky and you don't even need a brush! For a gorgeous glow, splurge on Nars' The Multiple—it replaces your blush, bronzer, and highlighter. In a pinch, it even works as an eyeshadow! Whisk on a layer of water-proof mascara, a dab of creamy lip balm and you're good to go! But if you need some nighttime drama, a gel eyeliner in turquoise, gold or purple looks fun and won't budge as you dance the night away! With only 5 products to carry, you'll be able to fit them in that little TSA-Approved plastic baggie, so you know you'll look good even in mid-flight.
Now go forth and party pretty!