How Long Can You Last Without 'BK99'?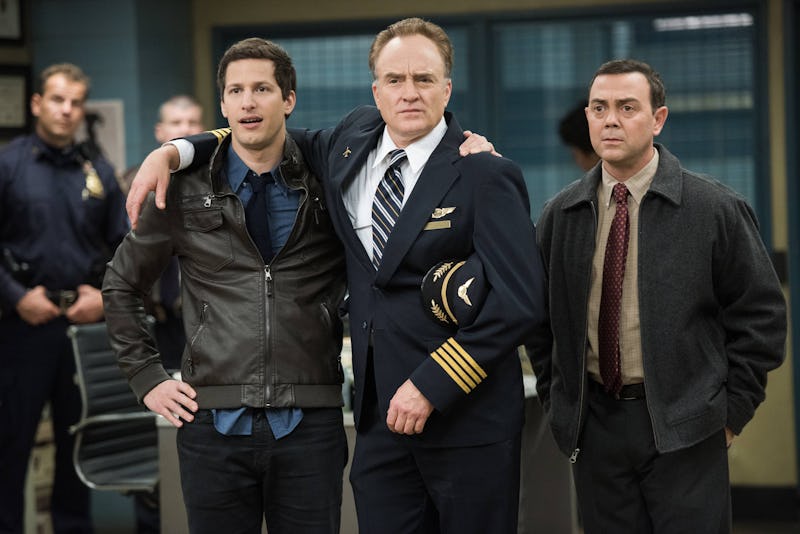 It's only early March, but because there is good in this world, we've learned that Brooklyn Nine-Nine is renewed for a Season 3. Rejoice! The series, which started in September 2013 on Fox, has becoming an award-winning, fan-favorite show. The sitcom follows 99th Precinct of the NYPD in Brooklyn, and all of the quirky detectives and employees that work there. And while the show was doing so well that a third season seemed to be in the future, there's a certain level of comfort knowing that it's for sure happening. So when can we expect Brooklyn Nine-Nine to premiere for Season 3?
We're not saying goodbye to Season 2 of the series just yet, but it is coming up very quickly. Season 2 of Brooklyn Nine-Nine completes it's season March 15, with "Sabotage." There has been no news as to when Season 3 will begin, but we can predict when it will start back up based on when past seasons have premiered. Season 1 and Season 2 both began during the fall start-up week, Sept. 17 and 28 respectively. Based on those dates, we can guess that Season 3 would follow the same schedule and will probably premiere when all of fall TV comes back in September of 2015.
And that's a really long time.
So what can we expect from Season 3? A Jake and Amy coupling is bound to happen, right? After their perfect teaming up before the wedding of Charles and Gina's parents, I'm just itching for them to get together. Whether that happens before Season 2 ends (and leaves us with a terrible cliffhanger, a la The Mindy Project Season 2), or Season 3 picks up with the potential of the two having a relationship, it needs to happen. Like, now.
Season 3 also holds the potential of another season of amazing guest stars. The show has had a guest star list only a comedy fan can dream of, so let's hope that Season 3 keeps those familiar faces coming.
Images: Eddy Chen/FOX; /Tumblr brookheimers