A Lot Happened In 'Bates Motel' Season 2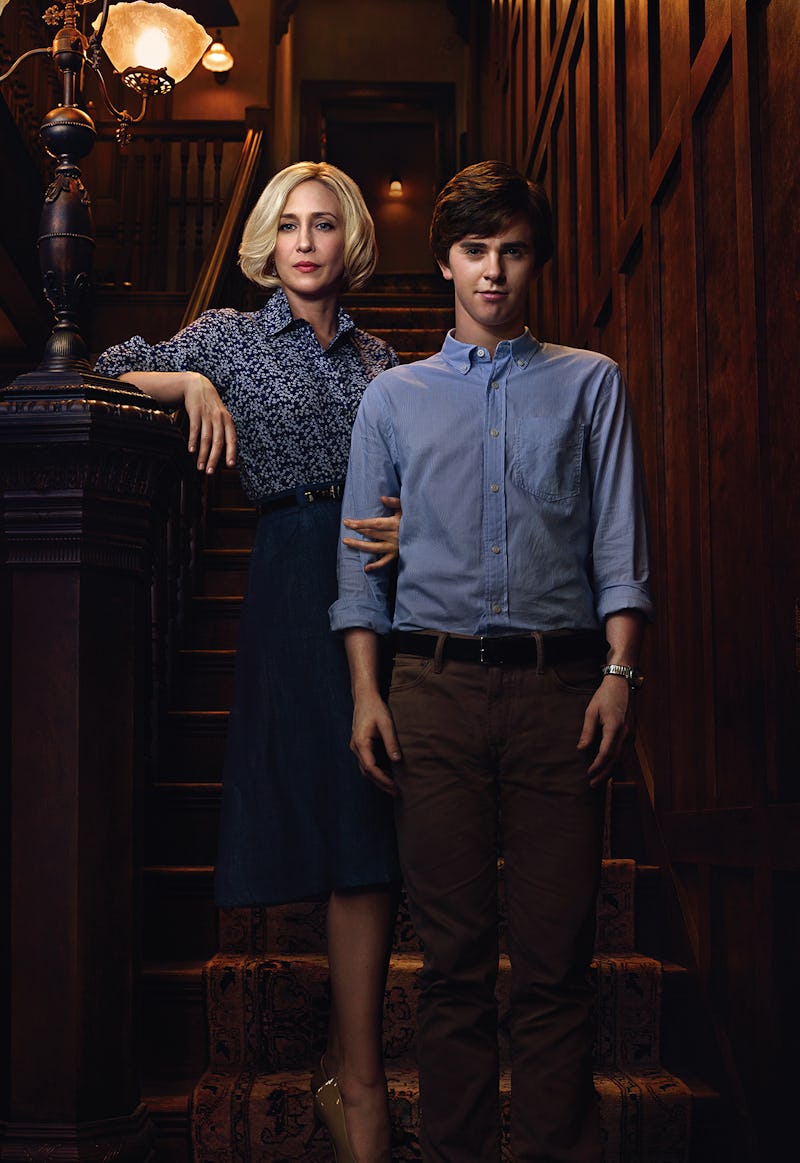 Prequels can always be a bit of a challenge, whether it's played out in the form of a movie or a yearly television series. This is mostly because a.) it can leave some pretty big shoes to fill, and b.) your audience is already going to know the story's endgame. Which is a big part of what makes the major success of A&E's psychotic thriller Bates Motel all the more impressive. We know what Norman will become, and yet we still find ourselves enthralled with his storyline (in the most terrifying way, of course). So now that Season 3 is just hours away from premiering, I think it's necessary for us to take a step back and refresh our memories about everything that happened in Season 2 of Bates Motel. We wouldn't want Mother to get angry, after all.
Of course, when I say "Mother," though, it's getting more and more difficult to know who I'm exactly referring to: Norma herself, or the twisted version Norman has concocted in his head. Because, OH YEAH, his blackouts start to become more and more frequent as the season progresses. In fact, at one point he even took on his mother's characteristics. But hey, we all go a little mad sometimes, right? Enough of all this chit-chat, though. Let's check in on each of our main characters and see what they've been up to four months after Blair Watson's Season 1 death.
Norman
Miss Watson's death hit our poor Norman pretty hard, so much so that he frequently visited her grave (still having no idea that he was the one who put her there, of course). However, his blackouts continued to become more and more frequent — to the point where he was even taking on his mother's persona — so he decided to confide his worries to his new girlfriend, Cody Brennan. She eventually told Emma about Norman's condition, which sparked a fight between her and Norman and led to the accidental death of her abusive father. (Norman, in an attempt to save Cody from harm, pushed the man down the stairs, killing him.) The death was ruled as an accident, but upon acquiring a DNA sample of Norman during processing, Romero discovered that it matched the unidentified seamen found on Blair Watson's body. This eventually led to him taking a polygraph test, which he passed while under one of his trances.
Norma
In an attempt to stop the bypass from happening, Norma befriended Blair Watson's powerful, drug boss father, Nick Ford, hoping that his influence could end the project altogether. However, their relationship quickly turned sour after Ford kidnapped Norman in order to motivate Dylan to kill Zane, who had declared war on the Ford family. Norman's abduction and claustrophobic conditions forced him to recall the night that he killed Miss Watson. Now knowing the truth, Norman tried to kill himself in the woods shortly after being saved, but Norma caught onto his plan and stopped him before he could follow through. With a little nudge from Dylan, she decided to allow Norman to take the polygraph instead of running away to Montreal.
Dylan
Dylan decided to help Bradley find out who killed her father. After learning that he had been having an affair with Blair Watson, they assume Blair's boyfriend Gil had killed him out of revenge, which prompted Bradley to kill Gil and leave town with Dylan's help. Meanwhile, Norma's brother Caleb showed up and immediately began bonding with Dylan. But after defending him to Norma, she revealed the truth: Caleb had raped her repeatedly throughout their childhood and he is actually Dylan's real father. Devastated, this news took a big toll on their relationship and led to Caleb leaving town. But that rift didn't prevent Dylan from still trying to save Norman after he was abducted. In fact, he ended up killing Nick Ford and rescuing his little brother, with the help of Romero.
Romero
After taking down Zane, rescuing Norman, and covering up Dylan's murder of Nick Ford, Romero insisted that Norman take a polygraph test to prove that he did not, in fact, kill Blair Watson. But when the results proved to be in Norman's favor, the case was dropped for good. After all, it's not a lie when the person taking the test actually believes what they say, right? Sorry, Romero, but you're going to need something a little stronger to take this killer down.
Emma
Emma didn't really have much of a noteworthy storyline this season other than losing her virginity to a cute motel guest and threatening to quit her job because she didn't feel as though she was part of the Bates family's inner-circle of trust. But we all know she'll be sticking around. Perhaps even a little romance between her and Norman will finally come to fruition.
Let the Season 3 chaos commence!
Images: A&E; James Dittiger/A&E; Joseph Lederer/A&E (4)