What We Know About Next Season of 'Bates Motel'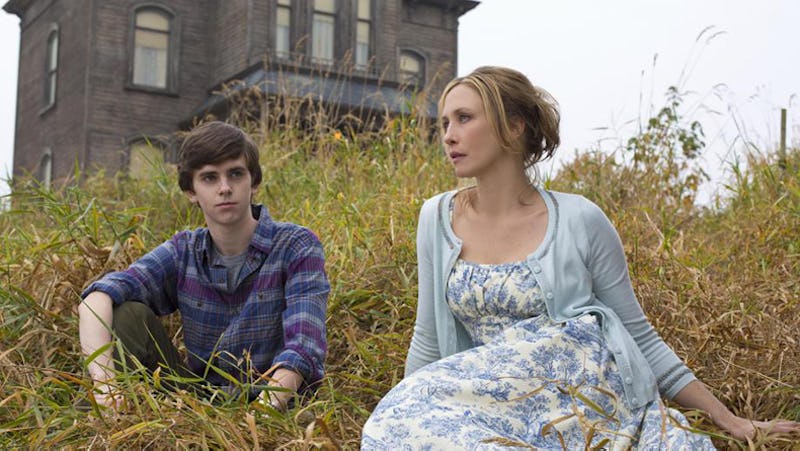 A&E's twisted, incestuous Psycho prequel Bates Motel airs its Season 2 finale on Monday, and fans can rest easy because, in case you hadn't already heard the good news, there's a Bates Motel Season 3 on the way. A&E renewed the series earlier in April, much to the delight of the show's Oedipus-complex-loving fans.
So, what do we know — and not know — about Season 3 so far? To start, the showrunners don't want to reveal too much. Series writer and executive producer Carlton Cuse recently sat down with Fanbolt to discuss what's in store for Norma and Norman.
"We do foresee that there are some bad things that loom ahead for Norma and Norman, but I think it would be — I think it would actually rob the audience of the enjoyment of the journey to be too specific about how we're going to play that out. I mean certainly we think that, you know, a literal necessitation of the events of the movie would not be fully satisfying."
Obviously the show is headed in the direction of the events that take place in Psycho, but it looks like it'll continue to take a route of loose adaptation (similar to that of NBC's Hannibal ).
It's also not clear how long it will take for Bates Motel to lead up to the Mary/Marion Crane plotline. In the original book version of Psycho, Norman is described as middle-aged. In Bates Motel Norman is about 17, so we've still got at least a decade or so of time to cover.
There's a good chance we'll learn more about Season 3 in the live Bates Motel: After Hours special A&E will air directly after the finale, which will feature Cuse, along with Vera Farmiga, Freddie Highmore, and a few other main cast members. After Hours will give a handful of fans the chance to ask the cast and crew questions about the show, and we doubt a few of them won't be able to resist asking about what's to come in Season 3.
As for a release date? We know Season 3 will start filming in the fall and no premiere date has been announced, but considering the first two seasons premiered in May, there's a fair chance the next season will as well.
Of course, before we can really start thinking about Season 3, we have to get through the Season 2 finale, airing Monday, May 5.
Images: A&E (2)