'Jurassic World' Star Reveals The Scariest Part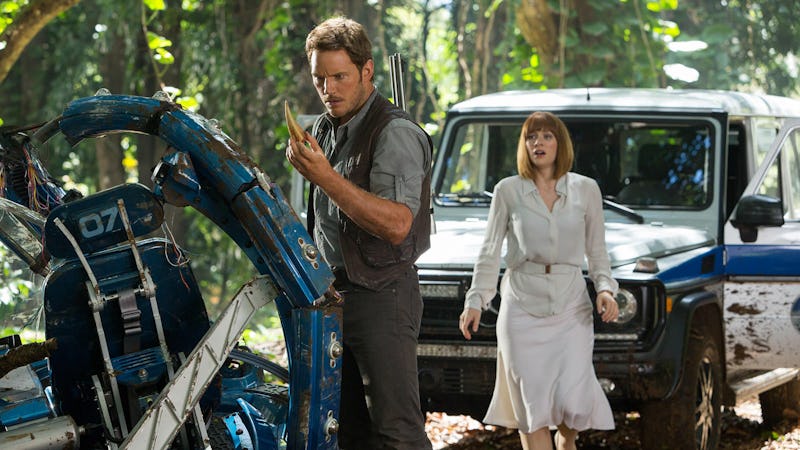 It's perhaps the most anticipated movie of the summer, and on June 12, fans will finally get to see the latest — and long overdue — Jurassic Park film. Jurassic World , starring Bryce Dallas Howard and Chris Pratt, follows the events of the first film 22 years later, when the park is fully functioning once again, but this time, with a bigger, badder, and more disastrous attraction. You've watched the trailer on a running loop, and Dallas Howard's infamous "Run!" plea is ingrained in your mind, because lord knows whatever these characters are running from is a massive dinosaur — or worse. "That trailer is extremely fun," Bryce Dallas Howard says. "Everything about doing Jurassic World was a dream come true. I did an ADR session the other day and it's looking sensational!"
From the trailer alone, we know a few things to expect: A mutant dinosaur hybrid is being made, the park functions like a terrifying version of Sea World, the hoards of raptors are still around, and most importantly, the humans working at Jurassic World (neé Park) are still idiots who insist on toying with evolution and nature. "I would have played a tree in the background if they asked me to!" Dallas Howard says of her starring role in the film. "It's hard to choose the biggest highlight because it was my first movie back after having [my daughter] Beatrice and I was just pinching myself the whole time because I couldn't believe how lucky I was. Jurassic Park is so iconic and getting to be a part of that in any way is astonishing."
But luckily, she did choose her favorite part, and revealed that between dinosaurs, lavish jungle sets, a killer cast, and epic one-liners, her most cherished part of filming was working with the one and only Chris Pratt. "He is a treasure in every sense of the word," she says. "He's so kind and humble, and absolutely hilarious. There is never a dull moment when Chris is around. He's the sweetest actor I've ever worked with."
And fans would agree, with Pratt's galactic Marvel adventure Guardians of the Galaxy coming in as the highest-grossing film of the summer. "The fact that he is now 'the guy' in these big movies makes me so much more excited for big movies. He brings such a sensitivity and humor to his roles — he is just magnetic to watch," she says.
While the stunning redhead wouldn't reveal too much in terms of plot, she did offer up her scariest moment taking on the latest film in the franchise. "[My] scariest moment is hard without giving too much of the plot away, but I will say this: relaunching an iconic franchise is terrifying for all involved," she says. "There's just so much to live up to. If you get it right though, it's thrilling."
The actor, a mother of two, says her children affect the kinds of roles she takes on "in a logistical sense." Looking at Dallas Howard's upcoming projects, Jurassic World and Pete's Dragon in particular, her slate leans towards family friendly fare (if you count blood-thirsty dinosaurs as kid appropriate). "I weigh things like, is this project, this character, this film, worth me taking the time away from family, or moving us half way across the world?" she explains.
"In terms of the projects I get to be in, I've been in plays where I've been naked on New York City rooftops for an audience of 40, and I've been in movies with vampires, superheroes, and dinosaurs! All I can say is that getting to work as an actress is a sensational gift, and I think my kids see that, regardless of if I let them watch my films," she says. "The unique joy of working on a family film is that when they work, they truly are for everyone. My favorite moments in a movie theater have always been when watching stories that connect everyone — in fear, joy, sorrow, adventure, whatever it is — if Jurassic World can achieve that, I will be so proud."
Jurassic World hits theaters June 12.
Images: Universal; Youtube