20 Accessories For Coachella & Other Festivals That Will Take Your Look To The Next Level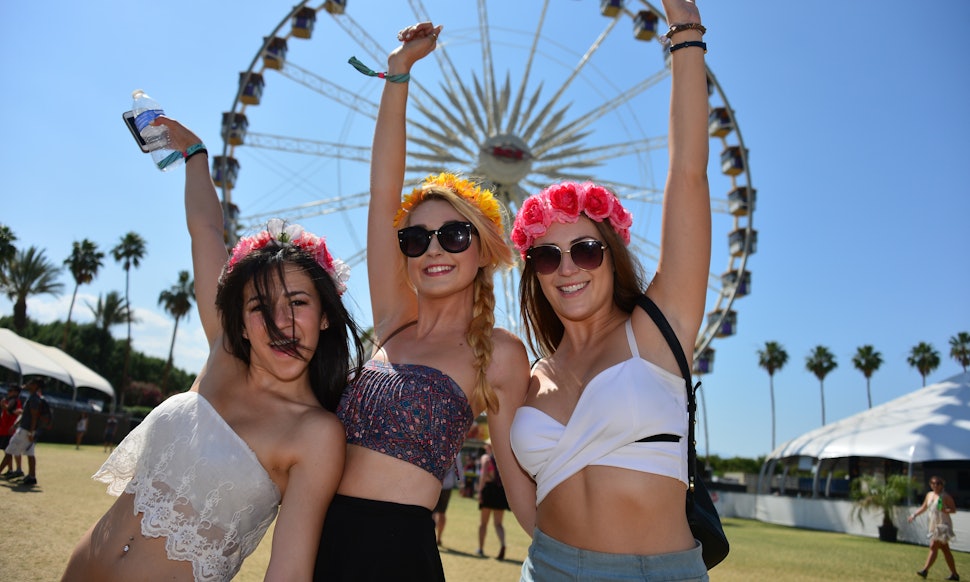 Frazer Harrison/Getty Images Entertainment/Getty Images
From a little known festival in the desert featuring the likes of Weezer and Rage Against the Machines in 1999 to a near cultural phenomenon today featuring headliners like Ellie Goulding and Drake, you know it... it's the Coachella Valley Music and Arts Festival. Beside the amazing music, what's even more compelling is the way the fashion and beauty industry have so seamlessly become synonymous with the event. In the spirit of this triple threat, I've rounded up a list of fashion forward pieces perfectly inspired by Coachella's bohemian desert aesthetic.
With achingly stylish pool parties hosted by Lacoste to this year's sponsors, H&M and SEPHORA, it's no wonder the fashion crowd flock to Indio, CA each spring. Everyone from blogger favorites Man Repeller's Leandra Medine and Sincerely Jules' Julie Sarinana, to industry A-listers Diane Kruger, Karlie Kloss and the Jenner sisters, the crowd is packed with stylish celebs.
Long gone are the days when flowers in your hair and jean cutoffs, well, cut it. But don't you worry, these 20 festival-ready accessories are far from cheesy —and let's be honest here, it's all about the next level selfies for Instagram.
Gemstone Necklace
Collar-style necklaces have been popping up everywhere. This gemstone version boasts warm, rosy summer tones.
J.Crew, $98
Bold Floppy Hat
This ultra saturated burgundy hat is a little Carmen San Diego and a little fashion celebutante. Translation being: need it.
Asos, $36
Metallic Sandals
If risking a twisted ankle is not on your agenda, go for a sassy, gilded take on comfy gladiators.
Urban Outfitters, $75
Gold Trim Sunglasses
This up-and-coming eyewear brand was recently spotted on the likes of Hailey Baldwin, an up-and-comer in her own right.
Gentle Monster, $255.
Wide Brim Fedora
Somewhere between park ranger and street style star, this wide brim fedora is perfectly versatile.
rag and bone, $195.
Turquoise Stackable Rings
Definitely the splurge of the bunch, this statement ring is reminiscent of native american motifs.
Mociun, $3,454.
Bold Heeled Sandals.
These strappy sandals not only have chunky heels for a more comfortable day, but glam tribal hints. Yes, please!
Sam Edelman, $275.
Two-tone Hat
Somewhere between classic and boho, this two-tone hat will protect you from the desert sun's harmful rays.
HM, $25.
Braided Belt
This tan, faux leather belt is the perfect travel companion; it can be paired with nearly every outfit.
HM, $13.
Cat Eye Sunglasses
What's a summer outing without your sunnies? Opt for this modern take on the classic cat-eye shape.
Net-a-Porter, $55.
Lightweight Floral Scarf
Don't forget the anomaly that is super chilly desert evenings, prepare with this day-to-night, lightweight scarf.
HM, $10.
Drawstring Bag
With the sheer expanse of the venue, it's best to pack water, snacks, and beauty necessities in your own personal survival kit.
Topshop, $35.
Strappy Leather Sandals
Ballet-style ankle straps were all over the runways, what a better place to give them a go then surrounded by the fashion movers and shakers themselves.
Steve Madden, $120.
Statement Belt
This stunning leather belt adds shape and sexiness to any flowing kaftan or pool-side cover up.
Net-a-Porter, $365.
Colorful Round Sunglasses
What's a music festival without the proverbial '70s round glasses? Try switching it up with this adorable multi-color pattern.
Shopbop, $290.
Brown Tassle Cross Bag
Go for the gold and complete your '70s look with this vegan suede cross-body bag and tassel.
Nasty Gal, $58.
Strappy Wooden Heel
See where we're going with this? Full look in 1, 2, 3.
Jeffrey Campbell, $160.
Durable Bucket Hat
If Audrey Hepburn did a desert festival, she'd do it in a bucket hat just like this one.
Kate Spade, $78.
Oversized Tortoise Sunglasses
The grey-blue refresh on this traditional tortoise pattern makes these a must-have.
Warby Parker, $95.
Patterned Mules
We're so excited about the return of the mule, this black and white dot print can act as a statement or a neutral.
Seychelles, $100.